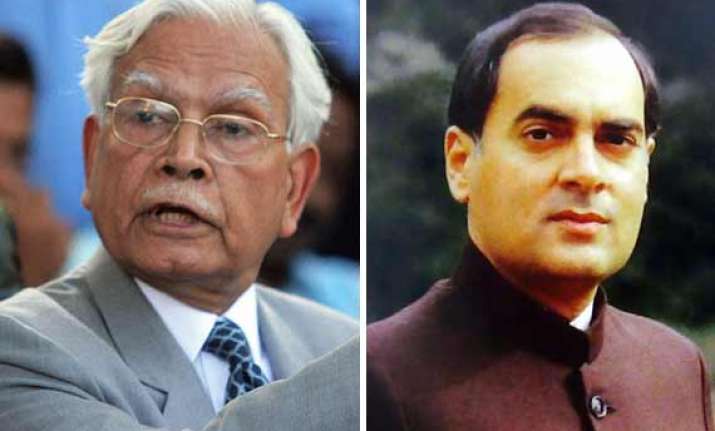 New Delhi: Then prime minister Rajiv Gandhi decided to send Indian troops to Sri Lanka in 1987 without consulting his officials, former external affairs minister Natwar Singh has said.
In an interview to Headlines Today over his book "One Life is Not Enough: An Autobiography", Natwar Singh also said that Gandhi had no coherent policy vis-a-vis Sri Lanka.
Asked if Gandhi decided to despatch Indian troops at the home of then Sri Lankan president J.R. Jayewardene in Colombo, Natwar Singh said he saw the prime minister with a lot of people there.
"He (Gandhi) said the president has said that there will be a coup tonight and I need your help and unless help arrives immediately, the situation will go out of hand," Natwar Singh said.
The reference was to the massive street protests that erupted in Sri Lanka following the India-Sri Lanka agreement signed by Jayewardene and Gandhi July 29, 1987.
Under the agreement that sought to end a raging Tamil separatist campaign, Indian peacekeepers were deployed in Sri Lanka's north and east.
The troops ended up fighting the now vanquished Liberation Tigers of Tamil Eelam (LTTE) and returned home in March 1990 after losing nearly 1,200 men.
Asked if instructions to call Indian troops were given when he (Natwar Singh) went to meet Gandhi, he said: "That's what he told me. 'I have already done it.'"
Natwar Singh said India lost troops in Sri Lanka as there was no coherence in its policies.
"MGR (M.G. Ramachandran, the then Tamil Nadu chief minister) had his own Tamil Nadu-Sri Lanka policy," he said.
Was the Sri Lanka issue mishandled? Natwar Singh said it ended in Rajiv Gandhi's assassination in 1991.
"By 1991 it was clear that Rajiv is coming back (to power) and (LTTE chief Velupillai) Prabhakaran knew that he would go for him," Natwar Singh said.
A Tamil Tiger suicide bomber assassinated Gandhi with a belt bomb at an election rally near Chennai May 21, 1991. India then outlawed the LTTE.
However, Natwar Singh said Gandhi cannot be singled out for the failure of India's Sri Lanka policy.
Natwar Singh also alleged that Rajiv Gandhi had admitted that he had been kept in dark about Operation Brasstacks, the exercise the Indian Army conducted close to the Pakistan border in 1986-87.
Asked if Gandhi was incompetent, he said: "He was not incompetent. He was so trusting. A politician should not be so trusting."