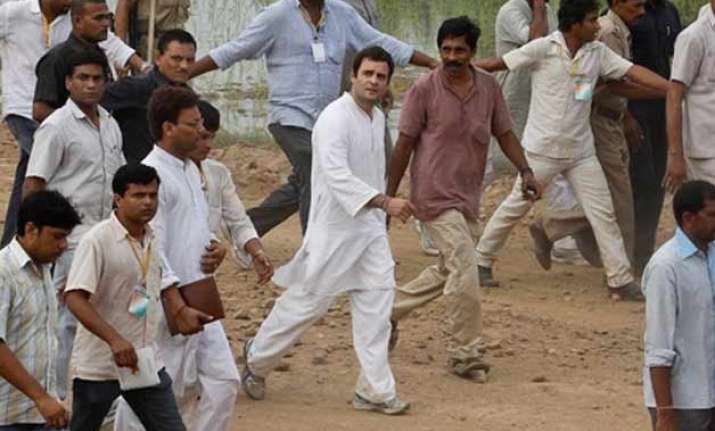 Hyderabad: Congress Vice-President Rahul Gandhi arrived in Telangana tonight to interact with farmers and undertake a 'padayatra' in Adilabad district tomorrow to highlight their issues.
Gandhi landed at Nanded in Central Maharashtra this evening from New Delhi and reached Nirmal in Adilabad district of Telangana by road tonight.
Telangana Congress President N Uttam Kumar Reddy, Working President Mallu Bhatti Vikramarka and several other party leaders welcomed Gandhi.
The 44-year-old Amethi MP was supposed to arrive in Hyderabad for his visit to Adilabad, but his tour programme changed and he landed at Nanded instead.  
The Congress leader would start a 15-km 'padayatra' (foot march) in Adilabad district tomorrow morning and address the farmers in the evening. He would interact with farmers and also console the families of peasants who allegedly committed suicide due to agrarian distress.
Gandhi's visit and his 'padayatra' in solidarity with farmers would instill a sense of confidence among them, the Telangana Congress leaders asserted.
The main Opposition Congress, TDP and BJP allege that hundreds of farmers committed suicide due to the agrarian distress in Telangana since the TRS Government assumed office in June last, a charge denied by the state administration.  The ruling TRS, meanwhile, said the Congress should not play politics on farmer issues.
"A democratic country like India needs a strong Opposition. Rahul Gandhi and Congress should focus on issues that don't backfire on them. Selective amnesia will not serve their interests," TRS MP K Visweswar Reddy said in a statement.
The Congress Vice-President had earlier visited Punjab and Maharashtra, where he interacted with farmers and undertook padayatras.
He has taken on the Modi Government inside and outside Parliament on the land Bill.