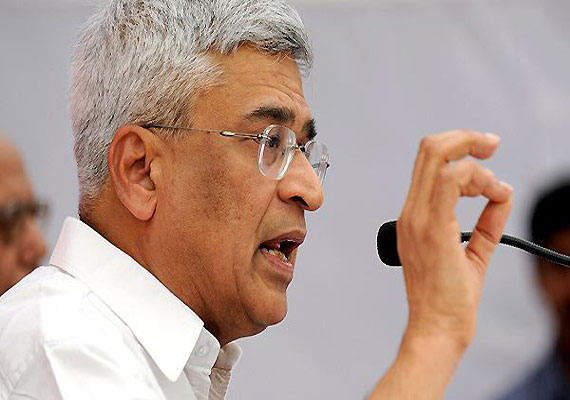 Jammu, Mar 24: Citing Samajwadi Party's electoral victory in Uttar Pradesh, CPI(M) today revived the idea of a Third Front, pitching for a unity of Left and democratic forces to give the people another alternative to Congress and BJP.
CPI(M) General Secretary Prakash Karat said people want alternative to Congress and BJP as both of them were defeated in UP elections.
"We call for strengthening of CPI(M) and building a unity of Left and democratic forces in the country. It is necessary to have a Left and democratic alternative for the people and we should provide an alternative to the people to Congress and BJP", Karat told a party rally here.
"BJP and Congress government are corrupt. People have understood that. Congress has been defeated so has been BJP and Samajwadi Party has got a tremendous mandate in UP", he said adding "CPI(M) wants to strengthen non-Congress, non-BJP forces in the country".
"In the present situation in the country, people are suffering from continuous price rise, massive corruption and shrinking job opportunities", he charged.  
The UPA-II has for last three years pursued policies which are harmful for the people of the country, Karat alleged adding in the recent Union Budget proposals, there is a big cut in subsidies for fuel and fertilizers.
"This is going to lead to further price rise. Farmers are already facing difficulties to buy fertilizers in view of steep prices. More and more workers are hired on contract basis. Even government departments are hiring contractual employees, thus, they are deprived of all the benefits", he said.
"As far as corruption is concerned there is no difference between Congress and BJP", Karat charged adding whereas the UPA has become notorious for a series of scams, the record of BJP is also bad.
"The corruption indulged in by Karnantaka government of BJP is an example", he said.
"Only CPI(M) and Left parties have a clean record as far as corruption is concerned. CPI(M) consistently fights against both neo-liberal policies and communal forces", Karat said.  
He appealed to the people of J&K not to be divided on communal lines saying such efforts are being made by communal forces on both sides.
He accused the central government of failing to initiate a political dialogue to ensure a political solution to the problems in J and K.
There are many measures that have to be taken now as militancy and violence has come down to instill confidence in the people of the state, the CPI(M) leader said.
Addressing the rally,  state CPI(M) Secretary M Y Tarigami asked India and Pakistan to give up the path of "disastrous confrontation" which has only resulted in "pauperizing the people of both the countries and must draw the lessons as quickly as possible to live together".  
There are options and opportunities which if availed can result in initiation of credible consensus of resolving outstanding issues, he said adding the people of J&K can have a sigh of relief and "our suffering substantiallly reduced if such a process takes off in the region.
People of J&K can only appeal to the leadership of both the countries to come out from their traditional rigidities, he said.
"Indo-Pak confrontations have not only threatened peace in the sub-continent but have consumed a lot of their resources and left the people of J&K across the LOC in a pathetic condition", he said.