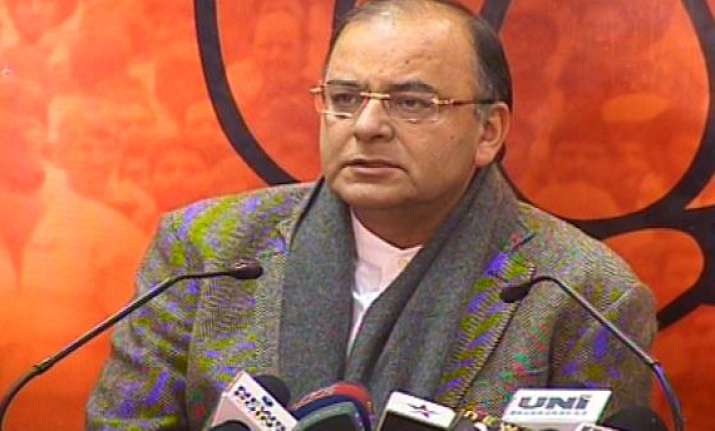 New Delhi: BJP on Wednesday  took a dig at the Prime Minister for asking all secular forces to unite against Narendra Modi, saying it shows that he is apprehensive and feels the challenge posed by the party's Prime Ministerial candidate.
Leader of the Opposition in Rajya Sabha Arun Jaitley asked all political parties which are against corruption to join hands with BJP.
"Those who go with the Congress will sink with a party that is going down," he said.
The opposition party also slammed Prime Minister Manmohan Singh for meeting his Pakistani counterpart Nawaz Sharif in New York at a time when Indian soldiers are being attacked at the LoC and Islamabad continues to support terrorism against India.
Speaking at a party programme here, Jaitley said he felt good when he heard Singh's remarks yesterday that all secular forces should unite to fight Modi.
"The Prime Minister is adopting a defensive posture. He can sense the challenge from Modi. He is apprehensive," Jaitley said.
BJP claimed that the 2014 Lok Sabha elections will not be based on "arithmetic"- pre-poll analysis of which party is likely to get how many seats- but about the "changed chemistry on the ground".
The next elections will also be a referendum on the leadership issue, Jaitley said and accused Singh of being a "weak" Prime Minister.
"The Prime Minister should be a natural leader of his party. He should listen to all opinions but finally take his own decision. When a leader half the age of the Prime Minister over-rules him, his status is diminished," Jaitley said, referring to the remarks made by Rahul Gandhi against the Ordinance on convicted lawmakers.
On holding talks with Sharif in New York, Jaitley said, "Why were we eager to hold talks with Pakistan, when their forces were violating ceasefire on Line of Control, killing and beheading our soldiers. Many a times not holding talks also builds pressure."
Jaitley said pressure can also be exerted on another country by insisting on the level at which talks are held.
He underlined that talks cannot be held when there are frequent LoC violations by the Pakistan army and its continued support to terrorism.
However, BJP clarified that it is not advocating war against Pakistan as no "responsible opposition" would suggest that but wants that India adopt a strong policy.
"Pakistan has not been able to accept that Kashmir is a part of India," he said.
BJP also charged that due to the policy of the Congress since the time of Jawaharlal Nehru of giving a "separate status to Jammu and Kashmir we are now faced with separatism".
Jaitley said when history is written it would be interesting to see whose views- Nehru's or Shyama Prasad Mukherjee's, who opposed special status to J&K, would be considered right.
BJP held Prime Minister's weak position responsible for the economy being in a bad shape, weakening of the Rupee vis-a-vis the Dollar and the scams.
"In the 2G case when spectrum was being given in 2008 at 2001 prices, letter after letter was sent to the PMO. The scam did not happen behind the PM's back, it happened under his nose," Jaitley said.
The weak leadership in UPA government has led to a strong anti-incumbency against it, he said.