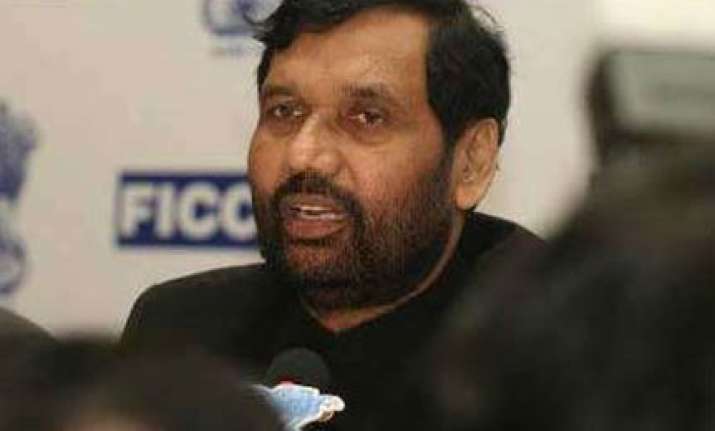 Patna, Oct 8 : LJP President Ram Vilas Paswan on Saturday  described the BJP as a 'headless' party after its state unit chief C P Thakur's resignation and said that the saffron party has gone into disarray with its 'top gun' running away from the electoral battle field in Bihar.  
"Now mukhias (heads) have started leaving the party (BJP) to mark the beginning of stampede in the rival camp," he told reporters here.  The ruling coalition was making fun of our parties (RJD-LJP combine) after some smaller leaders deserted us to join them (NDA)...Now our rivals have themselves been left high and dry following Thakur's resignation as the state unit BJP chief", he said.  
"What is the future of that party (BJP) when its big fish (Thakur) has called it quits?" the LJP leader wondered. 
Describing Thakur as a 'sharif admi' (gentleman), Paswan said the BJP and JD(U) were no more a place for the gentlemen.  Paswan also slammed the NDA for its 'double standard on family-driven politics' and said that the state BJP chief's resignation was a reaction against denial of an assembly ticket to his son.  
"We were accused of promoting our family members in distribution of tickets in the assembly polls.....what is happening in the NDA camp as they have fielded the kins of their MPs and senior leaders from various constituencies," Paswan asked.  
"It is the BJP and JD(U) who are promoting kins of senior leaders than us," he said.  Referring to the campaign strategy of the LJP-RJD, Paswan said that the two parties will undertake campaigning on individual basis even as he and the RJD supremo Lalu Prasad will undertake joint campaigning at some point during the six-phase polls.
On the contents of their joint manifesto, the LJP President said that it will be released soon in consultation between the leadership of the two parties. PTI