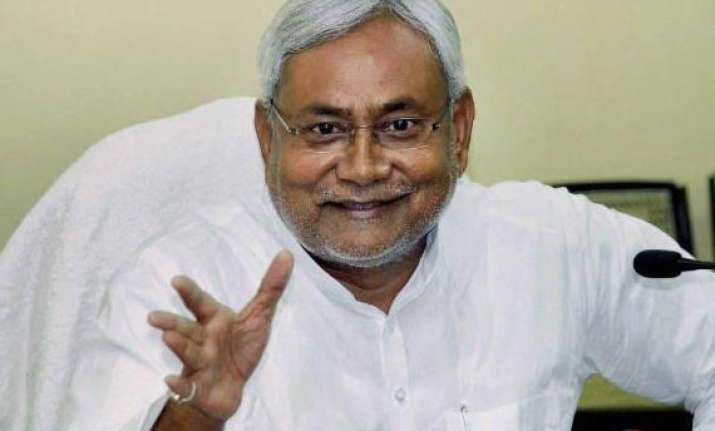 Patna, June 15: Bihar chief minister Nitish Kumar has convened a meeting of Janata Dal (United) legislature party meeting here on Sunday at 11 am, after which the formal announcement of severing the 17-year-old alliance with BJP will be announced.
Soon after that meeting, Sharad Yadav will announce his resignation as national convenor of National Democratic Alliance, while Nitish Kumar will announce his resignation from the post of state head of NDA.
Meanwhile, Janata Dal(United) president Sharad Yadav  on Friday told India TV in an exclusive interview that the sidelining of senior BJP leader L K Advani and BJP leaders sabotaging JD(U)'s prospects in the Maharajganj bypoll were some of the reasons for the party thinking of quitting NDA.
Yadav said, National Democratic Alliance was formed  on the basis of consensus over issues with Atal Bihari Vajpayee and L K Advani being the topmost BJP leaders at that time.
The JD(U) leader said, with Vajpayee unwell for a long time and Advani being sidelined, the Goa meet of BJP led to deterioration in the relationship. There were speeches made at the Goa meet which disturbed us, he added.
Yadav also alleged that some BJP leader in Bihar sabotaged his party's prospects in Maharajganj bypoll, and then the "waterlevel crossed our head"  (paani sir ke upar ho gaya).
Yadav said, Advani's resignation was also one of the reasons. "His voice is no more being heard in that party", he added.
"The way NDA is now, it's heading without a rein. We want a Prime Minister who should fit into the NDA's scheme of things", said Yadav, who is the NDA convenor.
Yadav said his party was still continuing talks with the BJP, and will arrive at an appropriate decision soon.
Bihar chief minister Nitish Kumar  has already said in Patna that  the situation was "now difficult".
Most BJP ministers, including Deputy Chief Minister Sushil Kumar Modi, skipped office for a second straight day Friday.
"The situation is difficult now," he told the media on his return to Patna after concluding Sewa Yatra.
"Dua dete hain jeene ki, dawa karte hain marne ki. Dushwari ka sabab yeh hain. (Their blessing is for life but the medicine is for death. That is the crux of the problem)," he told reporters in Patna.
He was replying to a question whether it is going to be the end of the alliance between JD(U) and BJP.
Without taking names, he said some BJP leaders wanted the 17-year-old alliance between the two parties in the state to continue "but are not ready to listen us".
The JD-U has 118 legislators, four short of majority in the house of 243 members.