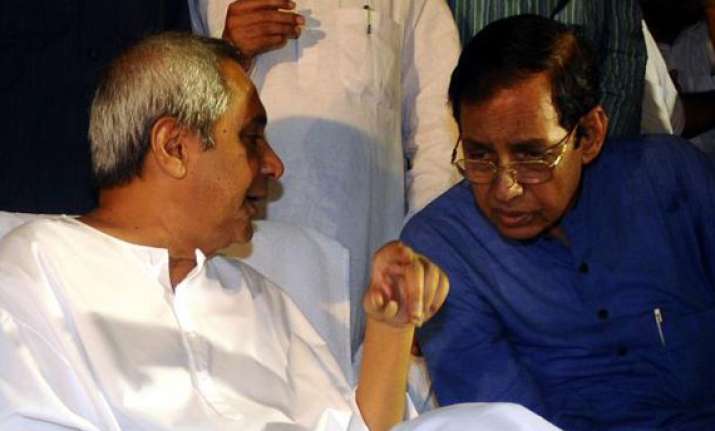 Bhubaneswar, Jun 1: Dubbing Odisha Chief Minister Naveen Patnaik as a 'traitor', suspended BJD MP Pyari Mohan Mohapatra on Friday said a conspiracy to oust him from the party was hatched three months ago at Delhi.  
"A group of conspirators had hatched a plan to oust me from the party. The conspiracy was made in Delhi," Mohapatra, a long-time strategist and adviser of the ruling BJD, said.  Not revealing names of the persons who conspired against him, Mohapatra said the chief minister had now come under the clutches of the group. "They will soon oust Patnaik from power," he claimed.
"Chief Minister announced my suspension under the pressure of this particular group of conspirators. People in general and the party workers in particular know who actually shed sweat for making BJD," he said.
"When BJD had only 10,000 members in 2000, it was now above 27 lakh due to efforts made by me," he said.  Stating that he was severely "hurt" over the suspension from the party, Mohapatra said "It is really painful to be suspended from the party for which, one worked day and night."
"I drank all poison and never allowed him (Naveen) to feel the pain of politics. Now that I am out, he will understand the complexities of politics," he said.  Mohapatra, a bureaucrat-turned-politician said that he was the person who worked "brick by brick" to build the BJD and make it a successful regional party in the country.  
Criticising Patnaik, the suspended leader said that he (Naveen) does not know how party functions and what is the role of the party president.
"I used to do everything for him. He (Naveen) too does not know who are the MLAs and whom the party fielded as candidates," Mohapatra said.
Replying a question, Mohapatra said he would not quit the BJD as expected by the "conspirator". He too rejected the idea of joining any other political party. "Why should I quit the party which has been built by me," he said.  
On the Chief Minister, Mohapatra said he (Naveen) had been making himself insecure due to wrong advice from certain leaders who conspired him.
"The group has won the first round by making Patnaik to announce my suspension. Later they will unseat Patnaik," Mohapatra said.