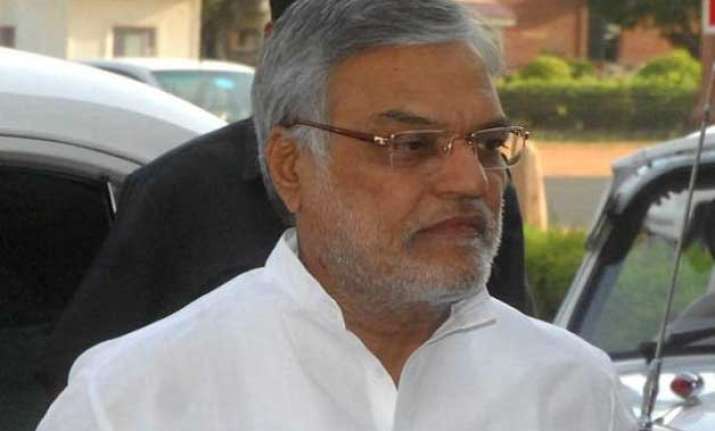 Guwahati: Congress today accused Prime Minister Narendra Modi of working to fulfil the "hidden agenda of spreading religious fanaticism" instead of focusing on development of the country.
"In last seven months, no investment has come (to the country) and Modi has given broom to everyone and asked to clean India! Where are the jobs and the factories that he (Modi) had promised?" All India Congress Committee General Secretary C P Joshi said at a rally here.
The Modi government has stopped recruitment of the existing vacant posts, he said addressing the people gathered at the 'Pratarana Birodhi Samawesh' (rally against betrayal).
"Instead, Modi is working with a hidden agenda. His MPs Sadhvi Niranjan Jyoti and Sakshi Maharaj are spreading agenda of religious fanaticism. He (Modi) is remaining silent. If this is your (Modi's) agenda, then tell people that development is not your agenda," Joshi said.
The senior Congress leader also alleged that BJP is bringing amendments to all the existing Acts to benefit the corporate sector.
Joshi also targeted Modi over the ceasefire violations by Pakistan, saying "Where is your 56 inch chest now when everyday Pakistan is firing and killing Indian people from across the border?"
He said the Prime Minister had promised before the last Lok Sabha elections that he would bring all blackmoney back to the country within 100 days of forming the government, but seven months have passed and "nothing has happened yet".
Joshi also accused BJP for attempting to take credit for all the development that India has made after being in power for just seven months.
"They (BJP) say that nothing has happened in 60 years! Today they are saying India is a superpower and they did it in seven months!" he said.
Joshi charged BJP with trying to damage the communal harmony of the country by playing "religious politics".
"They never talk about bad things of the Hindu religion. They have never mentioned about the condition of widows or SCs or STs of the Hindu religion. We also believe in Hinduism and God. Who has given them the right to talk on behalf of all Hindus?" he questioned.
The senior Congress leader alleged "a big danger" is lurking for parliamentary democracy. "We can see the world history and take example of Hitler. When an individual becomes very strong, then it is the danger," he added.
Speaking at the event, Assam Chief Minister Tarun Gogoi said BJP has taken U-turn on all issues related to Assam after coming into power.
"Take any issue that BJP had promised to solve—be it Bangladeshi immigrant issue, land swap deal with that country, big dam issue or prices of food items—Modi and his government have made U-turns," he added.
Gogoi also attacked the Centre for stopping subsidized foodgrains for the tea garden workers and alleged that Modi government has either stopped or altered all welfare schemes initiated by the UPA government.
"If BJP wins and comes to power in Assam in 2016, who will benefit? All big traders and rich people will benefit.
But let me tell you, this will not happen. We will definitely win the next Assembly elections in Assam," the Chief Minister said.
He also opposed the implementation of the amendments in the land acquisition Act through an ordinance and said his government will not implement it as it is against the interests of farmers.
Gogoi also claimed that BJP's only aim was to capture power and said it has no contribution in Independence struggle and development of Indian society.