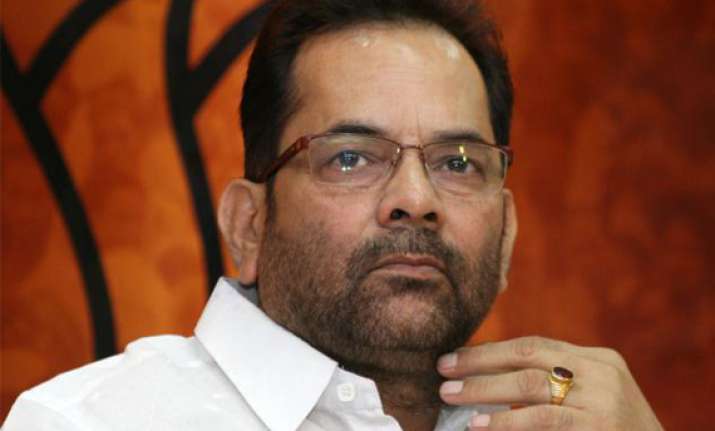 Rampur (UP): Stating that Narendra Modi was an "ambassador of development" and not a "symbol of fear", BJP Vice President Mukhtar Abbas Naqvi has hit out at "vested interests" for claiming that the party had not done justice to the Muslim community in handing out tickets for the upcoming Lok Sabha polls.
The minority community needs all-round progress through social and political empowerment, Naqvi said as he assured that once it came to power at the Centre, BJP would "compensate for the alleged losses with enough and judicious interest".
"Muslims need development in multiplied quantum to enter the election arena.
"(Some) political parties no doubt hand tickets and opportunities to Muslims, but they are not true to their intention of bringing in a system which would enhance the community's social, economic and educational situation," Naqvi said here yesterday.
"We have launched a movement to (help) those sections who were separated or got annoyed due to certain misconceptions with the hope that they (minorities) would come two steps forward in response to our four steps," he added.  
He further condemned Congress, Samajwadi Party and BSP and accused them of painting a false picture of Modi after they had seen the writing on the wall about a BJP victory in the upcoming polls.
"Modi is not a symbol of fear, but an ambassador of development," Naqvi said while expressing confidence that BJP would capture over 50 Lok Sabha seats in Uttar Pradesh.