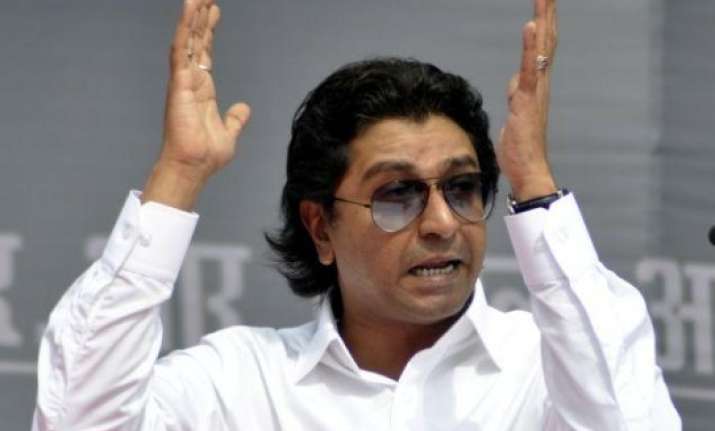 Mumbai: Justifying his party's demand for autonomy for states, as spelled out in its 'blue-print' for Maharashtra's development, Raj Thackeray today said MNS would not be contesting the Lok Sabha elections henceforth.  
"National parties should focus on Lok Sabha elections and leave state elections to regional outfits. I (his party) will not contest Lok Sabha elections henceforth," Raj said during an interaction with journalists here.
"When I say autonomous status, I am not talking about independence. States' issues can be dealt with by the state governments while inter-state matters should be left to the Centre," he said.
He also said that he would soon write to all the Chief Ministers about his demand of autonomy for the states.  To a question on why he went back on his decision to contest the Assembly election, Raj said if MNS got a majority, he would "lead from the front".
Refusing to discuss possible post-poll realignments in Maharashtra, Raj said he was, for now, concentrating on his party's performance in the October 15 Assembly elections.  
"These elections are interesting as all the parties are fighting independently. Hence the results are unpredictable.  The pre-poll surveys are either paid ones, or figment of some people's imagination," he said.
When asked about the breaking of Shiv Sena-BJP and Congress-NCP alliances, Raj said it was high time Maharashtra left the coalition politics behind. "Regional parties should be have absolute majority," he said.
Raj also said that national parties often cannot take a stand on disputes concerning two states, because they have presence in both the states.
The MNS chief said Narendra Modi, when he was the Gujarat Chief Minister, had talked about states becoming self-sufficient if they could retain the taxes collected by them. "I am not saying state taxes should not be given to the Centre. I am just saying the work which can be done at the state level should be done without Centre's  interference," he added.
For instance, he said, maintenance of old forts in Maharashtra needs Centre's approvals and funds, which need not be the case.
When asked why he was criticising the Prime Minister Modi now when he had supported him before the Lok Sabha polls, Raj said, "Rather than criticism...you can say I am feeling sad that he had not changed his stand after becoming the Prime Minister. As the Chief Minister he had every right to speak about Gujarat. But now he should have changed... I have not changed my opinion of him."
Objecting to BJP's campaign advertisements which portray Maharashtra as a backward state, the MNS chief maintained that Maharashtra was ahead of other states in every respect.  "However, our growth stagnated in the last 15 years while other states progressed."
He said the poor performance of his party in the Lok Sabha polls (MNS drew a blank) was a a good reality check and he had put the defeat behind him now. "I lacked the conviction while campaigning then. Now I have it," he said.  Raj also criticised Modi for being busy campaigning for state elections when tension prevailed on the border. However, he said it would be too early to judge the Prime Minister's performance just now, as he had been elected for five years.