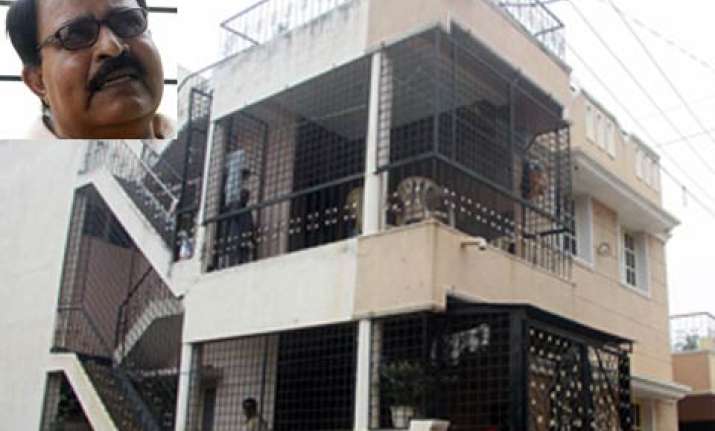 V Anjaneya, 55, former deputy general manager of  Karnataka Reddy empire's mining company, is nowadays literally living in fear. The policemen guarding him have disappeared for the last two months, reports Bangalore Mirror.
The former employee, who knows everything about the 'illegal mining empire' of the Reddy brothers, has bolted himself in his Bangalore home, the report says.  
V Anjaneya dared to take on the might of the Reddys, and has since been punished for that – his wife was allegedly dragged away by associates of the Reddy brothers, and his office was ransacked. 
Anjaneya himself ended up at Narayana Hrudayalaya. Reddys' men had allegedly come to the hospital looking for him. Now a diabetic and a heart patient, with two bypass surgeries, Anjaneya has barricaded himself behind iron grills in his house in Bangalore. He fears for his life.
"The Reddy brothers and their associates will hardly be bothered by the recent raids," Anjaneya told Bangalore Mirror.  
"They have lots of money, influence and power. Plus, they have covered their tracks since their illegal activities came under scrutiny."
Anjaneya had worked with the Reddys for five years — from 2004 to 2009 — looking after their AGK mines on the Andhra Pradesh-Karnataka border as deputy general manager of the Obalapuram Mining Company (OMC) in Bellary district.  
The brothers were very happy with his work, but he was forced to leave, around the time allegations of illegal mining started gaining credence.
Anjaneya's fear stems from the case he has filed in the supreme court against the Reddys and their alleged illegal activities. Its next hearing is on Friday.  
Anjaneya has been given two constables for his protection, but they are conspicuous by their absence. In fact, one of the cops assigned to guard him has not retrieved his cap and sweater he left at Anjaneya's house two months ago (see box).
The crusader entered the bad books of the Reddys when the Central Bureau of Investigation (CBI) raids began. He knew all about their activities, and documents related to the mines were in his custody.  
"When the Reddys got the news that, on the supreme court's order, a CBI team would be visiting Bellary on Dec 10, 2009, they went to my office. They destroyed all the documents and demolished my office. They told me not to worry. Later, Lakshmi Prasad, an assistant manager, came to me and said, 'They destroyed everything... we will tell these things to the CBI officials'. I agreed with him and went home,"
Anjaneya said. "But Prasad played a double game with me. Soon, the local police and some goons came to my home and took me to the Reddys. While I was away, their men destroyed my house and dragged my wife away.  
"On returning home and coming to know of it, I fainted. They released my wife the next day. We travelled to Bangalore and I had to get admitted to Narayana Hrudayalaya. They even came to the hospital to attack me."
Anjaneya complained to the DGP and the State Human Rights Commission (SHRC). After his discharge from the hospital, he prepared a report on the alleged illegal mining by the Reddys and lodged a complaint with the Lok Ayukta.  
He followed it up with a petition in the supreme court. In the meantime, he learnt that he and his son had been accused of theft by the Reddys.
"I asked the police how could they include my son's name in the complaint when he is working in London," Anjaneya said. Eventually, the CID closed the case, saying it was a false complaint.
He requested and got police security, but only on paper. Two constables from Subramanyapura police station are supposed to be guarding him round-the-clock.  
When the Bangalore Mirror reported visited Anjaneya's residence in Hari Nagar, no policeman was around.
"The cops come whenever they want; maybe, just once in 15 days. Doctors have advised me to walk for at least an hour every day. But I fear stepping out of my home. Nor do I feel safe inside it. For long, I have not gone anywhere, but I cannot skip my visits to doctors or to the bank. I have approached the police authorities and the SHRC, but in vain. I am the one fighting against illegal activities, but am forced to live like a prisoner in my home," Anjaneya said.
Inspector Narasimha Reddy of Subramanyapura police station said: "We are short of manpower. That is why no one was posted at Anjaneya's residence. I will soon post someone there."