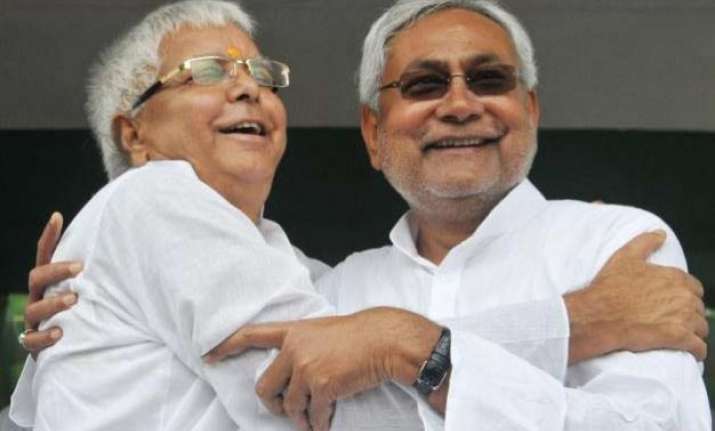 Patna: If reports emanating from inner circle of Lalu Prasad is to be believed then the RJD supremo has made up his mind to accept Nitish Kumar as CM candidate of  unified Janata parivar in upcoming Bihar Assembly elections.
According to some media reports,  Rashtriya Janata dal and Janata Dal (U)  have reached a consensus over seat –sharing and chief ministerial candidate for the upcoming Bihar Assembly elections.
Bihar chief minister Nitish Kumar would be the CM nominee of the new party in the upcoming Bihar Assembly elections.
RJD supremo Lalu Prasad is likely to become the party convener.  
The party will soon make a formal announcement regarding the name, election symbol and flag of the new party
Mulayam Singh Yadav has already been named as the leader of the new party which is likely to be named Samajwadi Janata Dal
The party's flag, according to reports, would have a green stripe in between two red stripes, with a bicycle at the centre and its election symbol would be a bicycle.
JD(U) president Sharad Yadav has emerged as the unanimous choice for the unified party's floor leader in Rajya Sabha. RJD leader Abdul Bari Siddiqui could be the Bihar unit president.
In their bid to put a united front against a rising Bharatiya Janata Party, six parties including  Samajwadi Party, RJD, JD(U), JD(S), Samajwadi Janata Party and INLD are merging to form a bigger party in order to take on the saffron outfit.
According to these reports, despite resentment from some quarters, Nitish Kumar was chosen as CM nominee as he is the most credible face and could be new party's USP against the NDA that may not declare its CM candidate
The reports also suggest that  an understanding has been  reached on seat-sharing with RJD and JD(U) leaders tentatively agreeing to contest 100 seats each, leaving 43 for possible alliance partners Congress and CPI.