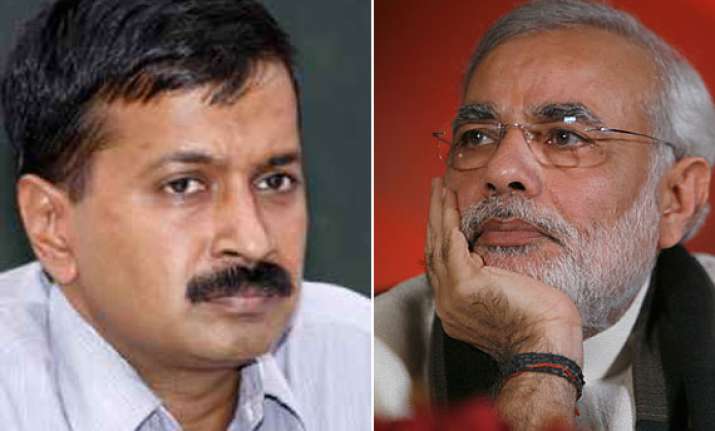 New Delhi, Dec. 3:   Aam Aadmi Party leader Arvind Kejriwal  today alleged that the Gujarat chief minister Narendra Modi "gifted away" 20 per cent stake of state-owned Gujarat State Petroleum Corp (GSPC) to two companies - Geo Global and Jubilant enpro - "completely free of cost".
Addressing a press conference here, Kejriwal alleged that Modi showered "undue benefits" on the Adani group by buying power at steep rates and giving away and at throwaway prices.
Kejriwal alleged that  Modi and the Congress  were working hand in gloves  when it came to business interests.
Kejriwal said,  documents concerning the Adanis had been handed over to him by suspended IPS officer Sanjiv Bhatt, whose wife  is the Congress candidate against Modi in Maninagar.
Late in the evening, the Adani group denied Kejriwal's charges   saying the land was allotted  afer due process of law at Mundhra Special Economic Zone.
Kejriwal had alleged that  Modi had allotted 14306 acres of land to Adanis in Kutch at rates ranging from Re 1 per sq meter to Rs 32 per sq meter for SEZ.
"Most of the land is allotted in Mundhra village, where the market rate is Rs 200-315 per sq meter for industrial use and Rs 1000-1575 per sq meter for commercial use.
"If we take Rs 10 per sq meter as the average price at which land has been given to Adanis and if we take Rs 300 per sq meter as the average market price, it means that Modi has given an illegal benefit to Adanis to the tune of Rs 1600 crore.
Similarly, Modi has allotted land to Adanis in many other parts of Gujarat at throwaway prices," Kejriwal had alleged  Kejriwal had alleged that  when Indian Air Force  asked for land from Modi, IAF was charged 8 times the market rate.
Adani group's statement read, "The land for Special Economic Zone at Mundra was alotted following the process of law. The allegation related to coal supply by GMDC is baseless.
"Till date we have not received any coal from GMDC. These baseless allegations seem to be motivated and lack deeper understanding of the matter. They do not merit further response."
Kejriwal had also alleged  that the Modi govt had decided to purchase power at Rs 5.45 per unit and  Adani Group had decided to terminate long term agreement for power supply at Rs 2.35. Adani Group's plea to terminate state utility's power purchase agreement for 1000 mw is pending before the apex court and regulators.
Kejriwal said GSPC, a State-owned exploration company, acquired gas blocks in KG Basin in August 2002. According to Government's own estimates, the fields allotted to GSPC were worth $20 billion, he added.
"The Modi Government entered into production sharing agreements with Geo Global and Jubilant Enpro…and gave away 10 per cent of participating interest to each of these two companies completely free of cost."
Kejriwal questioned the selection of these two companies, as he alleged that according to records, it was not through competitive bidding.
He alleged that Geo Global, owned by one Jean Paul Roy, was incorporated just six days before their agreement with GSPC and on the day of the agreement, its total capital was $64 (Rs 3,200) only.
"So, from a Rs 3,200 worth company, it became a Rs 10,000 crore worth company within six days," he said.
Alleging that Congress was a partner with Modi in the "loot", Kejriwal said the other company, Jubilant Enpro, was owned by Shyam Sunder Bhartia, husband of Shobhana Bhartia, a Congress nominated member in the Rajya Sabha and owner of Hindustan Times.
Alleging "similar illegal benefits" to Roy in the UPA regime, Kejriwal said "Geo Global's Web site shows that it has entered into several production sharing contracts in KG Basin, Cambay Basin, Deccan Syneclise Basin and Bikaner Nagaur basin.
Many of these contracts have been entered into with OIL, which is a Central PSU. The contracts with OIL happened during UPA regime."
Kejriwal alleged that bids for long-term power purchase agreements were 'manipulated' in favour of the Adanis in 2007, which was also taken note of by the Gujarat High Court.
In February 2007, the Modi Government entered into two agreements with Adanis for supply electricity at Rs 2.35 and Rs 2.89 per unit, respectively, despite State-owned Gujarat Mineral Development Corporation offering a rate of Rs 2.25.
He alleged this was because a few days after signing the agreement, Adanis refused to supply electricity till they were supplied coal by the Gujarat Government. GMDC reportedly said they would supply coal if Adanis supplied electricity at Rs 2.25 per unit.
"Rather than reprimanding Adanis and cancelling their contract, Modi personally intervened. Jose, Chairman of GMDC, was transferred and GMDC was asked to supply 50 per cent of its coal from Naini block to Adanis," Kejriwal said, flashing the copies of file notings made by Modi.
Despite this, the Adanis cancelled their contract in 2009 and the Gujarat Government started buying electricity from them under short-term contracts at Rs 5.5 per unit.
"So, in effect, the Adanis walked away with coal blocks without supplying the electricity at cheaper rates," Kejriwal alleged.