Follow us on New Delhi:  Members of Parliament (MPs) from different political parties may be seen shouting against each other in the parliament but at least 30 of them decided to bury their differences and assemble on a common platform to advocate the need for extending  respect and honour to Indian women.
These MPs joined hands on Wednesday to launch 'HOW MP Connect: Redefining Leadership' initiative of the Honour Our Women (HOW) Foundation  set up by BJP MP and BCCI secretary Anurag Thakur.
The new initiative will provide a platform to the youth, especially school and college students to work closely with law makers to bring about change at the grassroots level by helping create a safe and respectable environment for women in India. The MPs will nominate one person from their offices to work with HOW Foundation to hold self defense classes, health awareness workshops and legal awareness, social inclusion sessions in their respective constituencies.
These MPs will also nominate three assembly constituencies falling under their parliamentary seats where HOW Foundation would hold street plays, photo exhibitions, debates and movie screenings to help create a conducive environment for women.
Explaining the rationale behind launching this initiative, Anurag Thakur said that women safety and empowerment is a must for the development of our nation. He pointed out that just enacting stringent laws will not ensure safety and honour for women unless they are implemented in letter and spirit. He also stressed the need to sensitise the society at large, especially the youth, in this regard.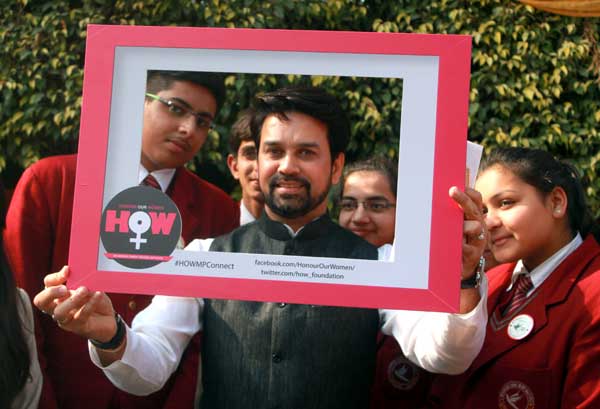 "While a lot was being done by the government and various organisations, the cause would not reach its desired impact unless we engage, educate and empower the youth in this process of bringing about this change. HOW Foundation initiative is unique in that it transcends all political barriers, because when we fight for the Honour of Our Women, we fight for the honour of our nation," the BJP MP added.
Anurag Thakur founded Honour Our Women (HOW) Foundation in December 2013 to commemorate the Nirbhaya incident and to begin an initiative that would work towards changing mindsets and creating awareness about how women are perceived in India.
Read Also: What if Rajendra Kumar turns out to be another Jitender Singh Tomar for Arvind Kejriwal?
The MPs who attended the launch of the new initiative included Babul Supriyo, Minister of State for Urban Development, Rajiv Shukla (Congress), Supriya Sule (NCP), Anupriya Patel (Apna Dal), Chirag Paswan (LJP), Shatabdi Roy(TMC), Gaurav Gogoi(Congress), Dushyant Chautala (INLD), Meenakshi Lekhi(BJP), Actor-turned politician Paresh Rawal(BJP), Bhojpuri singer-turned-politician Monoj Tewari (BJP), Dushyant Singh(BJP) Poonam Madaam(BJP), Nishikant Dubey (BJP), Harish Diwedi(BJP), Virender Kashyap(BJP) Ram Swaroop(BJP), Pritam Mode (BJP), Jagdambika Pal(BJP), Om Birla(BJP) and KP Maurya (BJP).
In their separate messages, Union Ministers M Venkaiah Naidu and Rajiv Pratap Rudy also expressed their support for 'HOW MP Connect: Redefining Leadership' initiative.