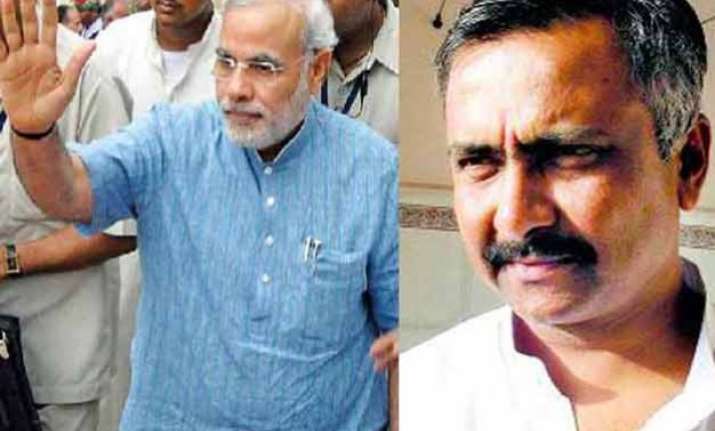 Lucknow: The hoardings of BJP leader Sanjay Joshi, known to be a fierce opponent of Prime Minister Narendra Modi, hung on the walls of party's office in Lucknow.
The hoardings, put on by   another BJP leader K.K. Shukla on behalf of Sanjay Joshi fan club, congratulates him  on party's  35th foundation day  and his 53rd anniversary.  
Besides the hoardings, the wall also have pictures of Atal Bihar Vajpayee, Narendra Modi, .L.K. Advani and Amit Shah.  
 
K.K. Shukla said, the hoardings have been put to congratulate Sanjay Joshi. Speaking on the issue, BJP Spokesperson Vijay Bahadur Pathak said, Party's foundation day can be celebrated by anybody and Sanjay Joshi is a BJP worker so we don't have any problems with that.
 
 Sanjay Joshi, ex- secretary general and RSS pracharak, had worked in Gujarat Unit of BJP  in 1988. Serious differences erupted between Modi  and Sharma when later was sent to work at Gujarat's BJP unit during later's stint in the state.
It is said, Modi refused to attend the National Executive meet of BJP in May 2012. He kept a condition for meeting that he would only attend it, if Joshi resigns from the post of general secretary.  The incident followed his resignation from Party's general secretary post and consequently from the party.
If party sources are to be believed, Joshi still is associated with the affairs of the party.