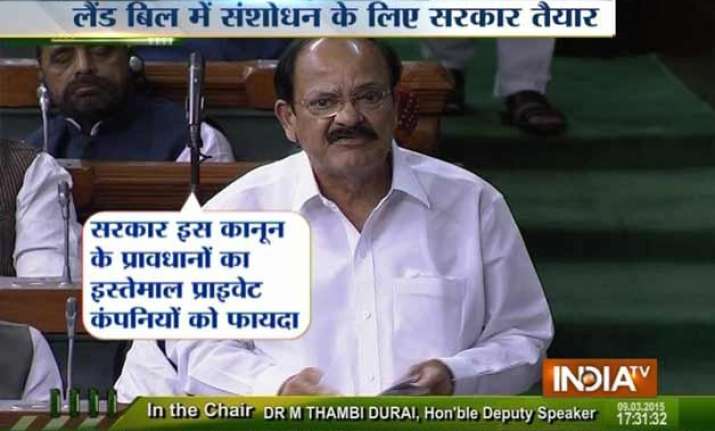 New Delhi: The Narendra Modi government is likely to accept 7-8 changes of the total 52 amendments suggested by opposition on the controversial Land Bill.
The Right to Fair Compensation and Transparency in Land Acquisition, Rehabilitation and Resettlement (Amendment) Bill, 2015, was yesterday taken up in the Lok Sabha for consideration and passing.
India TV has exclusive information about the changes which the government can accept.
ALSO READ: Shiv Sena keeps govt on tenterhooks over Land Bill
The first important change could be that the government will not acquire land for private entities but only for government projects which includes power plant, nuclear plant, dams, hospitals and townships etc.
The second significant change could be removal of social infrastructure from the list of five sectors that would not require farmer's approval.
ALSO READ: Congress to vote against Land Bill
In tribal areas, Gram Panchayat's consent would be made necessary for land acquisitions. The farmers would have right to appeal or complain against the land acquisition in his district.
There are also suggestions of not granting excessive land for development of industrial corridors.
Parliamentary Affairs Minister Venkaiah Naidu yesterday reiterated that the Bill is not pro-corporate and the legislation is in the larger interest of the farming community.
Expressing the willingness of his government to consider the 52 amendments moved by members, he hoped that Rural Development Minister Birender Singh will look into the possibility of reducing the land for industrial corridors being planned to boost manufacturing sector in the country.
Naidu also suggested creating a 'bank' of barren land for acquisition and said first such land should be used for setting up of industrial projects.
Today, the Lok Sabha is set to witness a confrontation over the Bill when it is taken up for voting with opposition adamant on opposing.
The Land Acquisition Bill, which seeks to replace an Ordinance issued in December to amend the Land Act 2013, was introduced in the Lok Sabha on February 24.