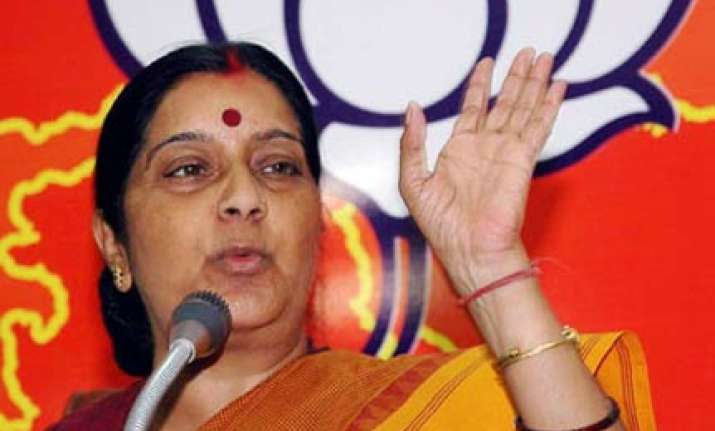 Patna , Nov 2: The BJP today said it will not allow the Congress to push under the carpet major scams related to Commonwealth Games and 2G Spectrum deal in the wake of the housing society scam in Mumbai and the NDA would raise these issues in Parliament.
"Deliberate attempts are being made to divert the people's attention from the major scams under the cover of the Adarsh Colony Scam," senior BJP leader Sushma Swaraj, who was here to canvas for NDA nominees for the fifth phase poll in Bihar on November nine, told reporters.
She claimed that several other scams would soon come to light in Mumbai. "We would raise all these scams when the Parliament opens on November eight."
She also demanded that resignation of Maharshtra Chief Minister Ashok Chavan be accepted without any delay.
"Things are now out in the open. The country wants a decision. There should be no delay on part of the Congress and the Chief Minister's resignation should be accepted immediately," the Leader of the Opposition in the Lok Sabha said.
"I was speaking with the national president (Nitin Gadkari) and he said more such scams in Mumbai will come out in the open in days to come," she said.
The BJP would scuttle any plans of the Congress to "hide" the CWG scam in the wake of the housing society scam, Swaraj said, adding the party would "expose" all scams in the winter session of Parliament beginning next week. PTI