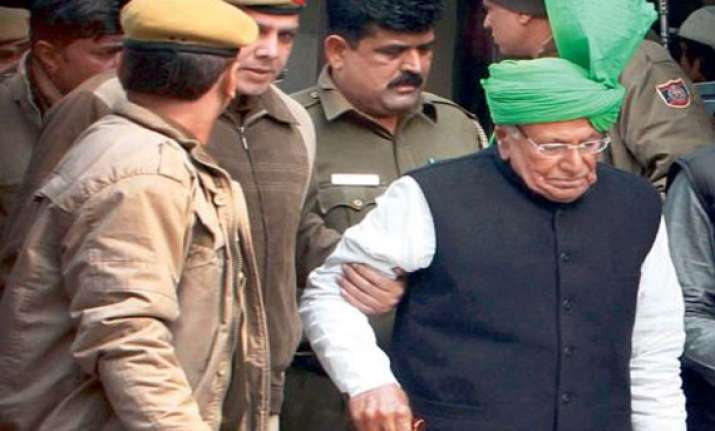 Chandigarh, Feb 26: An adjournment motion seeking the ouster of former chief minister Om Prakash Chautala from the Haryana assembly has been admitted, following his conviction by a CBI court for graft in teachers' recruitment scam.
Nalwa legislator Sampat Singh, who was finance minister in Chautala's ministry 1999-2005 but is now with the Congress, moved the adjournment motion under Rule 66 of the Rules of Procedure and Conduct of Business in the Haryana legislative assembly, for Feb 26 (Tuesday).
He sought the removal of the Indian National Lok Dal (INLD) leader from the membership of the legislative assembly and also from the position of the leader of opposition.
In his motion, Sampat Singh said that Chautala had been convicted and sentenced to 10 years' rigorous imprisonment in the teachers' recruitment scam by a Central Bureau of Investigation (CBI) court recently.
"So, Mr. Om Prakash Chautala has no moral right to continue as member of the legislative assembly of Haryana and also the leader of opposition in such circumstances," Sampat Singh's motion read.
Chautala and his legislator son Ajay Chautala were sentenced to 10 years' rigorous imprisonment in the teachers' appointment scam by a CBI court in New Delhi in January.
Fifty-three others, including INLD legislator Sher Singh Badshami and two bureaucrats, were also convicted in the scam of recruitment of over 3,200 teachers in Haryana's government schools. The recruitments were made in the year 2000.