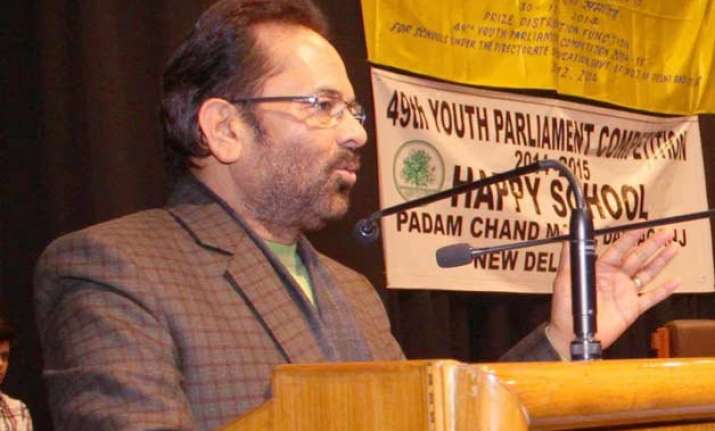 Mumbai: The Central government yesterday said that it was committed to overall socio-economic development of minorities and asked Maharashtra government to speed up implementation of schemes for them in the state and also utilisation of central funds.
Union Minister of State for Minority Affairs Mukhtar Abbas Naqvi while stating this said the progress achieved for various minorities-related schemes in the state ranged only from 30 to 45 per cent, nowhere crossing the half way mark.
Naqvi while expressing the Centre's commitment for development of minorities promised that funds would not be a problem in addressing any of the challenges. He asked Maharashtra government to come up with innovative schemes and programmes to promote minority welfare.
Naqvi was talking to reporters after a meeting with minority community leaders. He also had a meeting with Minority Affairs Minister Eknath Khadse during which implementation of minorities-related development schemes in the state was reviewed.
Khadse said the Centre will give Rs 100 crore to the Maulana Azad Minorities Financial Development Corporation for providing financial assistance and subsidised loans to members of minority communities.
"Naqvi told me that the Centre has decided to give the Rs 100 cr grant to the Corporation (of Maharashtra government), after the state government submits a guarantee," he said.
Khadse informed Naqvi that the new state government was making all efforts to fast-track implementation of minority schemes in Maharashtra.
Stating that education was the priority area for minority empowerment, Naqvi said Maharashtra had been able to achieve only 38 per cent progress in opening of 1,000 primary schools for minorities.
"The decision to release Central funds often depends upon the utilisation rate of the previous grants. Maharashtra needs to look into this matter and speed up implementation rate. A state like Kerala has already utilised 100 per cent funds and has capacity to absorb more," he said.
Naqvi referred to Prime Minister Narendra Modi's thrust on skill development and said it was one of the sure ways to empower minority youth.
Naqvi also suggested that Maharashtra government explore possibility of entering into MoUs with corporates, industry and service institutions for supply of skilled manpower.
Maharashtra government is laying stress on minority education, especially girls' education, Khadse said. About 15-16 separate girls hostels are being built across the state, he added.
Khadse asked the Centre to increase the merit scholarship for minority students to Rs 35,000 from the present Rs 25,000, bringing it on par with scholarship for SC/ST students.