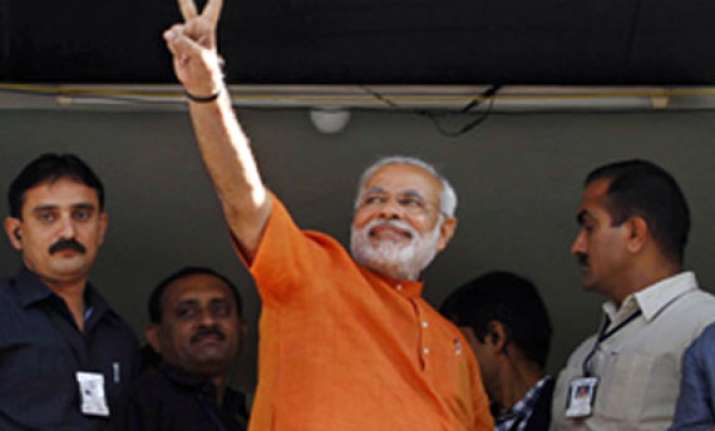 Ahmedabad, Feb 13: Continuing its good showing in the Assembly elections, the BJP on Tuesday  posted impressive wins in civic polls by winning 47 of the 76 municipalities.
An elated Chief Minister Narendra Modi called the victory a "major win".
Out of 75 municipalities, the results of which were declared by the State Election Commission, 47 were won by BJP while Congress managed to win nine, officials said.
Halvad in Surendranagar and Kutiyana in Porbandar were won by BJP unopposed and polling was held for 74 'Nagar Palikas' or municipalities on Sunday.
"Thankful to people of Gujarat for the continued faith in us. Congrats to BJP workers for major win in municipalities polls," said Modi reacting to the party's victory that came less than a couple of months after the resounding win in the Assembly polls.
State BJP spokesperson I K Jadeja claimed that besides retaining all the Municipalities where BJP was in power, the party has wrested 10 from the ruling Congress party in power in the civic bodies.
Counting for the Bhachau municipality was suspended as the seals of some of the EVMs were found to be broken and the election commission said that counting there would be held later.
Out of the 75 municipalities, the BJP has won 47, the Congress in nine, independent candidates have emerged as a majority block in nine municipalities while no party could manage majority in 10 municipalities.
BJP won 1,142 out of 1,905 seats across all municipalities while Congress won 442 seats and independent won 290 seats.
Bahujan Samaj Party (BSP) and Nationalist Congress Party (NCP) also made inroads by winning 13 and 16 seats respectively while Samajwadi Party (SP) bagged 2 seats.
Gujarat Parivartan Party led by Keshubhai Patel claimed that 54 of the independents who won were its candidates.
"If the SEC had provided us a common symbol in the municipal elections, we would have been able to win more seats," party general secretary Gordhan Zadafia said.
Gujarat Pradesh Congress Committee president Arjun Modhwadia said, "Congress fought on party symbol in 57 of the 75 municipalities while elsewhere, it contested the polls by forming 'nagrik samitis'. Actually, Congress has won 19 and lost another 10 by only 2 or 3 seats. The BJP fought on party symbol and misused the state machinery during the polls".