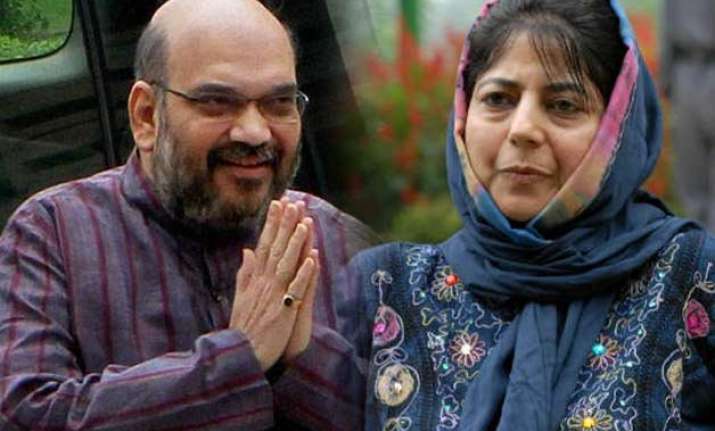 Jammu: The Bharatiya Janata Party (BJP) and Peoples Democratic Party (PDP) in Jammu and Kashmir have narrowed down their differences on forging an alliance to form a 'stable' government in the state.
Both parties have agreed that the Chief Minister will be from the regional party while the BJP will get the deputy CM's post, sources told India TV adding that a formal announcement in this regard will be made after the Delhi Assembly polls, slated for February 7.
The parties will soon draw up a common minimum programme where both will scale down from contentious issues like revocation of Article 370, Armed Forces Special Powers Act (AFSPA) revocation, more rights for West Pakistan refugees and the release of stone-throwers among others.
Meanwhile, scores of BJP and PDP leaders on Wednesday met Jammu and Kashmir Governor NN Vohra separately.
The BJP delegation led by party general secretary Ram Madhav comprised party's state unit chief and MP, Jugal Kishore and Billawar MLA, Nirmal Singh. According to Raj Bhavan spokesperson, during the course of nearly one hour long meeting, the BJP leaders informed the Governor about the present status of the ongoing alliance talks with the PDP.
In another development, PDP MLA from Rajpora constituency, Dr Haseeb Drabu, called on Vohra and apprised him about the realizations which have emerged from the PDP-BJP parleys.
Sources also said that Union Minister and Udhampur MP, Jitendra Singh, will today fly to Srinagar where he will chair a meet of BJP leaders.
The leader, sources said, will discuss about the February 7 polls for Rajya Sabha from Jammu and Kashmir where four seats are going to fall vacant next month. The saffron outfit has fielded Shamsher Singh Manhas and Chander Mohan Sharma as party candidates for the upcoming Upper House elections. The polls have been necessitated as four seats from the state are going to fall vacant with the expiry of terms of Congress leaders Ghulam Nabi Azad and Saif-ud-Din Soz on February 10 and National Conference (NC) leaders GN Ratanpuri and Mohammad Shafi on February 15. The declaration of candidates by BJP for two seats comes even as it is in talks with PDP for formation of government in the state.
It is also believed that the latest development on the talks between the BJP and PDP on forming a 'stable' government will also be figure during the meet.
PDP, with 28 seats, is the single-largest party in the 87-member House, which is currently in suspended animation.
The BJP has 25 MLAs and enjoys the support of at least two other legislators.
The National Conference and Congress have 15 and 12 MLAs, respectively.
Governor's rule was imposed in the state on January 8, a day after Omar asked Vohra to relieve him of the duties of caretaker chief minister with immediate effect.