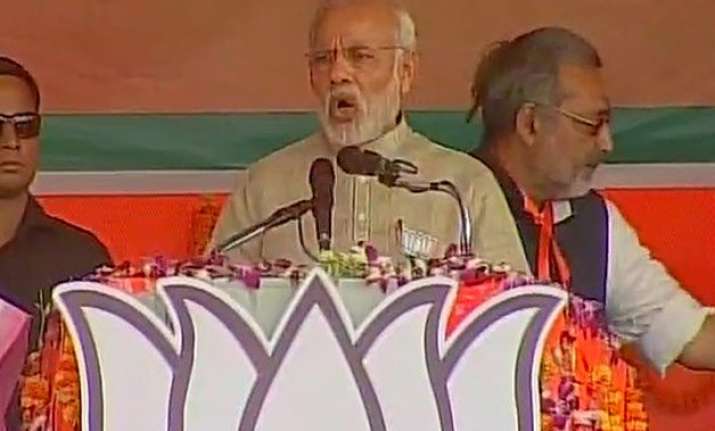 Chhapra : Prime Minister Narendra Modi on Sunday made a scathing attack on RJD chief Lalu Prasad on his home turf, calling him a "tantrik" (occultist) and his party "Rashtriya Jadu Tona Party" as he reached out to the youth and weaker sections, promising a six-point programme for the state's development.
Amid indications that the caste and reservation debate dominating the polls scenario could be detrimental to NDA's prospects, the Prime Minister raised the development pitch promising "bijli-paani-sadak" (electricity, road and water) and "kamai, padhai, and dawai" (earning, education and medicines) for each family in the state. Blaming "Bade bhaai (Lalu) and Chhote Bhaai (Nitish Kumar) for problems plaguing the state, Modi insisted that the only plank NDA has is of "development".
Hitting back at the grand alliance's "Bihari versus Bahari (Bihari versus outsider)" barb to attack BJP, which is fighting the polls under the leadership of Modi and Amit Shah, the Prime Minister took up the issues of migration and unemployment among youths.
In remarks laced with sarcasm, he said that he wants to ask from the "very respectable democrat (param adarniya loktantrik) Nitish ji and the "biggest occult practitioner (tantrik) Lalu ji that who made the Bihar youths outsiders by forcing them out of the state in search of livelihood. '
"People of Bihar want to know who made the youths of Bihar outsiders (Bahari). Who pushed my youths of Bihar outside. They destroyed two generations of youths in Bihar in last 25 years," Modi said amid renewed attempts by the BJP to consolidate youth voters in Bihar, which it expects will vote beyond the caste and community lines.
Ridiculing Lalu's election meeting barbs at him, Modi said, "Laluji you are free to sacrifice black or white pigeon or blow smoke or soil. If you have to do this rename your party Rashtriya Janta Dal as Rashtriya Jadu Tona Party (party of occult practices) and being the head of the party, you will be the biggest 'tantrik' in the world."