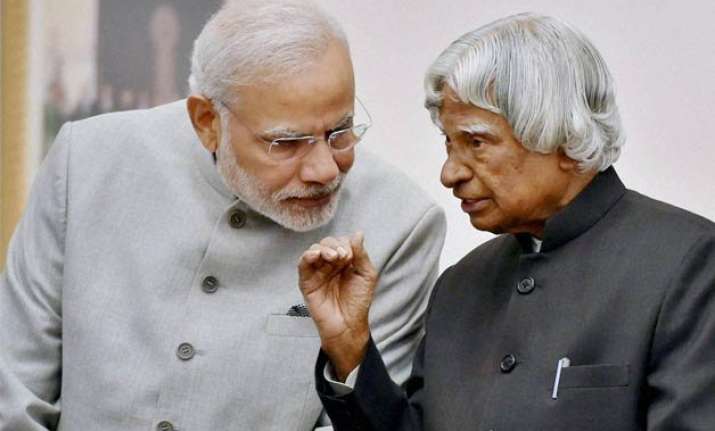 New Delhi:  Prime Minister Narendra Modi today condoled the death of former President APJ Abdul Kalam and said he has lost a "marg darshak" who took India to new heights in the field of science and technology.  
"He was a great scientist who contributed immensely in the filed of science and technology as well as space. I have lost a marg darshark.
"He was a source of inspiration for the whole country, particularly the youth. Even in his last days, he remained connected," Modi said.
Modi said the death of Kalam is a sad news for the whole country and also for the scientific community of the world.  "As a President, his work, his life was a direction of light. As a scientist, he took India to new heights. His motto was always to make India self-reliant by connecting its scientific strength.
"India mourns the loss of a great scientist, a wonderful President and above all an inspiring individual," he said.  Recalling his association with Kalam, Modi said his mind is filled with so many memories, so many interactions with him and that he always marvelled at his intellect and learnt so much from the former president.  Modi said even in his last moments he was doing his favourite job of teaching students.
"Even when he was the President and even after that he would say that he is a teacher and a professor. Teaching is my passion. And today, till the last moment, he was with students, doing his favourite work," the PM said.  
Kalam, who was India's president from 2002 to 2007, died in a Shillong hospital on Monday evening. He was delivering a lecture at the IIM-Shillong when he suddenly collapsed, officials said.
Doctors said Kalam suffered cardiac arrest.