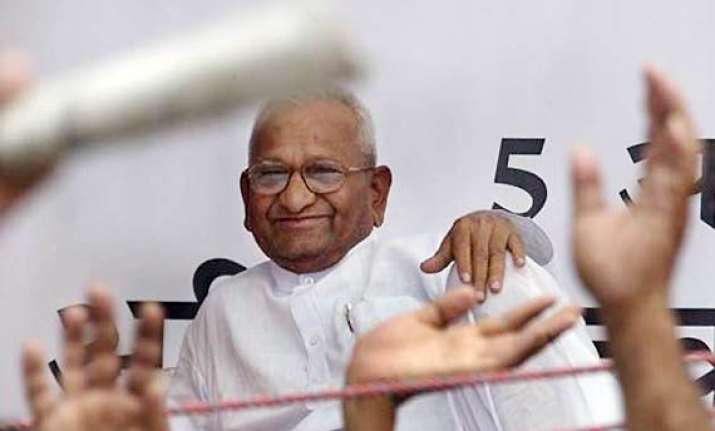 Nagpur, Aug 1: Independent MLA from Achalapur Bacchu Kadu has questioned the credibility of Gandhian crusader Anna Hazare over the Vidarbha farmers issue, reports Times of India.

Bacchu Kadu has said that Hazare has failed miserably to raise the issue of farmers' suicide in Vidarbha, where an average of two farmers commit suicide because of agrarian crisis every day. He also claimed that Hazare had conducted classes for aspiring IAS candidates in Andhra Pradesh and Madhya Pradesh but never fought for betterment of farmers.

Kadu, who was in Nagpur on Sunday, condemned the democratic front government in Maharashtra for its complete failure to tackle the worst-ever agrarian crisis.

"Interestingly, both central and state government have appointed MS Swaminathan and Narendra Jadhav committees to study farmers' suicide in Vidarbha region. Moreover, both the committees have been formed by the Congress ruled government.

The governments have declared special packages for the suicide prone districts, but they have failed to implement them. They did not even bothered to implement the recommendations made by Swaminathan and Jadhav," he alleged.

In fact, the debt-ridden farmers are at the mercy of the politicians including both ruling and opposition, alleged Kadu. Citing an example, Kadu said that recently BJP leader Rajnath Singh visited Yavatmal and raised the issue of agrarian crisis.

He said that though Rajnath Singh was agriculture minister during NDA regime, he decided to ignore the farmers' issue that time.

Kadu further alleged that various policies adopted by government are against farmers. In fact, the low cotton price is enough to prove this, he cited. In last five years, price of sugar cane has increased by 80%, while rate of cotton crops has improved by only 10 %.

Currently, the global prices of cotton are high but the government's decision of not exporting cotton has hit the farmers very hard. He further highlighted the fact that plight of farmers from non-irrigated land can also be gauged with the fact that the government provided subsidy of Rs 1,500 to them, while for irrigated land it gave Rs 16,000 per acre in the form of various schemes.

Vijay Jawandhiya of Shetkari Sanghathana admitted that farmers have lost faith in leaders due to past experiences.

However, to raise farmers' plight, Kadu said that his organization - Prahar in association with Kisan Mitra and Shetkari Sanghathana will organise a convention in Wardha on August 9, Kranti Din.

Farmers representatives and ryots from across the region would attend the convention, claimed Chandrakant Wankhede and Sanjay Deshmukh of Vidarbha representatives of Prahar.

"The demands include Rs 10,000 financial help for farmers of non-irrigated lands, to implement recommendations of both Narendra Jadhav and MS Swaminathan committees report, government job for project affected farmers or Rs 25 lakh compensation, remove backlogs of Vidarbha, Marathwada and other regions," Kadu said.