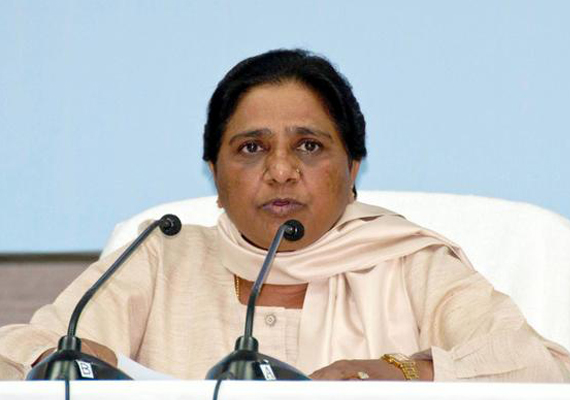 Lucknow, July 27:  Bahujan Samaj Party chief Mayawati today charged the Akhilesh Yadav government with wasting taxpayers' money in holding grand functions to hand out free laptops, but the Chief Minister hit back saying she had only "installed stones and planted babool trees" when her party was in power.
She alleged that there was massive discrimination in the above schemes where most of the beneficiaries were either wards of SP workers or connected to them.
Further, repeating her party's demand for President's Rule in Uttar Pradesh, Mayawati said that the "collapse" of the law and order machinery in the state had made such a step necessary.
"Whenever a programme is to be held for distribution of laptops and unemployment allowance, massive preparations begin 15 to 20 days in advance which (result in) the same expenditure as was made in buying these laptops...
"Is this not misuse of public funds?" Mayawati asked.
She said that the chief minister could have inaugurated the scheme once and left the distribution work to officials had the Samajwadi Party government been really committed to efficient administration.
She also alleged that UP Public Service Commission's three -tier reservation policy, which was withdrawn yesterday, had been designed to benefit a particular caste, the Yadavs.
Meanwhile, the UP CM was quick with his response to Mayawati's tirade, saying that BSP was baffled by the SP government's achievements.
"BSP is baffled with the achievements of the SP government. Only BSP works on the basis of autocracy and dishonesty," Akhilesh alleged, in reply to a question put to him on the sidelines of a laptop distribution programme.
Taking a dig at BSP, Akhilesh said that her government had only installed stones and planted babool and palm trees in the state.
"Now they are wary about where the public money was going," he said.