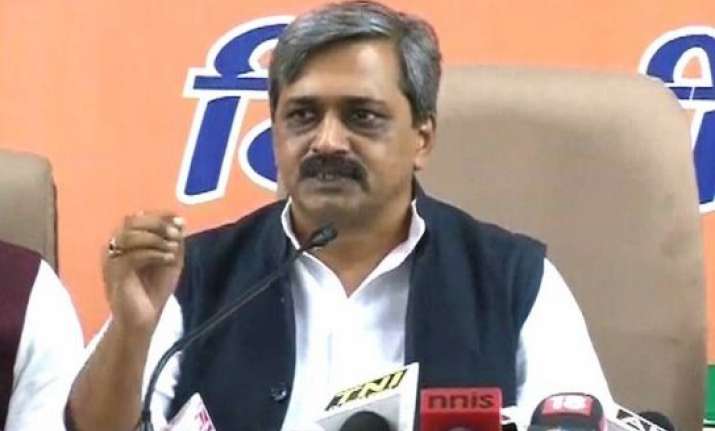 New Delhi: The BJP's Delhi unit President Satish Upadhyay Saturday termed the allegations made by the Aam Aadmi Party (AAP) leaders as baseless and ridiculous.
"AAP leader Kumar Vishwas's statement is ridiculous. The leaders of AAP are frustrated and indulging in contradictory politics. They issue statements only to remain in the news which has nothing to do with the ground level politics," Upadhyay told reporters here.
AAP leader Kumar Vishwas had Saturday alleged that a Bharatiya Janata Party (BJP) MLA had offered him the Delhi chief minister's post after the April-May general elections this year.
Another AAP leader Sanjay Singh later said that it was BJP MP Manoj Tiwari who had met Kumar Vishwas May 19 and asked him to bring along 18 AAP MLAs and become the chief minister.
Upadhyay said that the allegations made by AAP leader Kumar Vishwas are completely false because under the anti-defection law a changeover by 12 legislators will not make any difference. He added that the BJP has kept a distance from such activities and has never told its MPs to indulge in such activity.
"Although good and bad people are in every party but the reality of Arvind Kejriwal and his colleagues trying to get at the top of power politics in the name of RTI activism is known to all the people of the country," he said.
Earlier Manoj Tiwari, who is an MP from northeast Delhi also refuted the charges and said if needed, he will file a defamation case but only after talking to his seniors.
"I have become the centre of AAP leaders' accusations since I won election from Delhi. Earlier, they used to tell people I am a celebrity and won't work for them and now this. If Sanjay Singh is taking my name, then it is a personal attack on me," Tiwari told a news channel.
Delhi has been under president's rule since AAP chief Arvind Kejriwal resigned as chief minister in February after spending just 49 days in office.