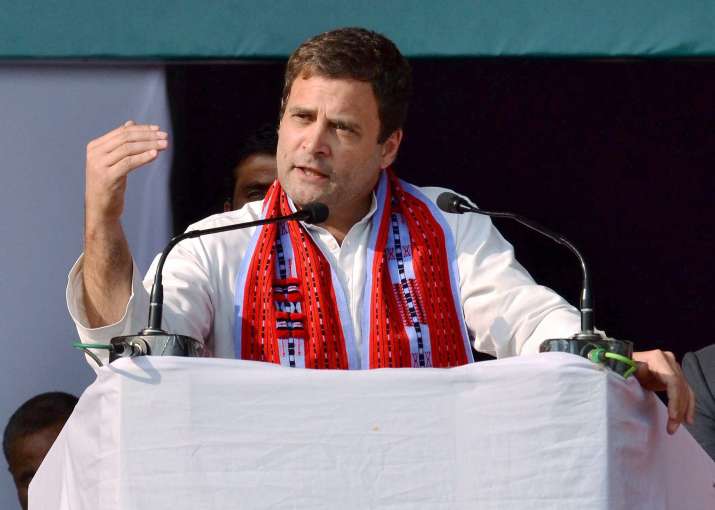 At a rally in Uttar Pradesh's Maharajganj on Wednesday, Prime Minister Narendra Modi mocked Congress leader Rahul Gandhi for his reported "coconut juice" remark.
Now, he is under attack by the opposition party for "lying".
PM Modi had attacked Rahul by attributing to him a remark in which the Congress vice-president had reportedly said, "I would also want when someone drinks coconut juice in London and sees Made in Manipur written on it."
"There is a Congress leader, and I want to pray for his long life...he recently went to Manipur to address an election rally. There he told farmers that he would extract juice from coconuts and send it to London. In fact, a coconut possesses water (and not juice) and it is grown in Kerala," Modi said at an election rally.
Hours after his speech, Congress released a video where Rahul is not heard saying 'nariyal juice (coconut juice)'.
मोदी जी यूपी में झूठ का जूस निकाल निकाल कर पिलाने की कोशिश कर रहे हैं।
मोदी जी, सच का रस ही अलग होता है, आप क्या जाने! pic.twitter.com/Z5F4SrhoCA

— Randeep S Surjewala (@rssurjewala) March 1, 2017
"You grow lemon, oranges, pineapples here. I want a day when someone will drink pineapple juice in London and see Made in Manipur on the pack," Rahul is heard saying in the video tweeted by Congress spokesperson Randeep Surjewala.
"Rahul Gandhi's video is universally available. You must watch it... He didn't speak about coconuts but about pineapple juice. PM Modi is just making up things," Surjewala said.
"Modiji has gotten used to of lies, Rahul ji said pineapple juice," Surjewala said.
"Modiji please be responsible. Your juice centre of lies will not work for very long," Surjewala said in a tweet in Hindi.