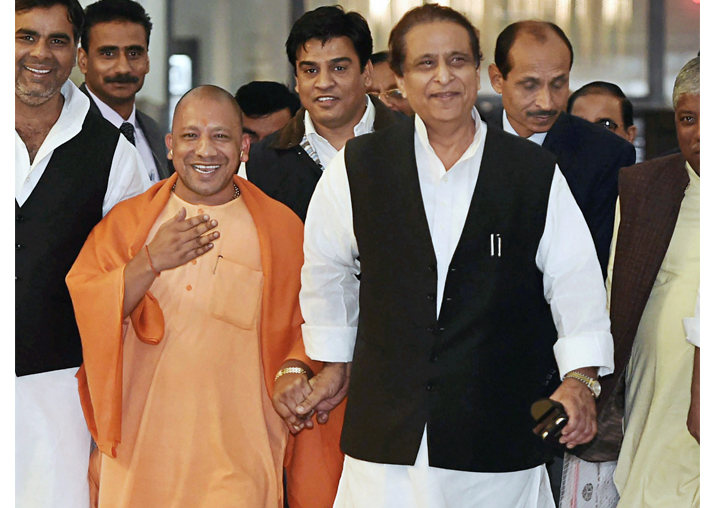 In a rare show of bonhomie, arch-rivals Uttar Pradesh CM Yogi Adityanath and Samajwadi Party leader Azam Khan were seen walking together, holding hands in Vidhan Sabha premises here on Thursday, the first day of the Winter Session of the Uttar Pradesh Assembly. 
The duo sharing camera space together raised many eyebrows, given the fact that the two never miss any opportunity to lambast each other even on petty issues.
Many leaders, who were inside the Assembly, were also shocked to see the rival party leaders exuding bonhomie and sharing laughs. 
It is said that the CM and Azam Khan reached the Assembly at the same time. The two met each other before entering the corridors. It was then that the photographers shot Yogi and Azam walking inside the House holding each other's hands.
Azam Khan's son Abdullah, who is am MLA from Suar Assembly constituency of the Rampur district, is also seen in the picture.
The brief Winter Session of the UP Legislative Assembly commenced yesterday. The nine-month-old Yogi Adityanath government is likely to table the first supplementary budget for the current fiscal on December 18 and the UPCOCA Bill. 
Chief Minister Yogi Adityanath said that his government was committed to run the House with maximum discussions and constructive debates.