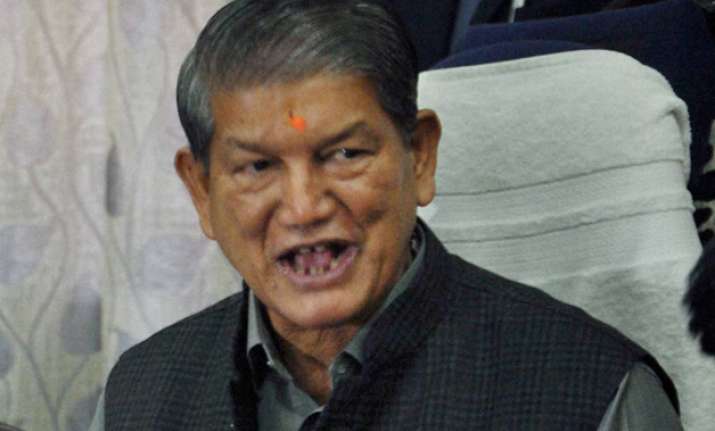 Dehradun: As Uttarakhand crisis deepens, the fate of nine rebel Congress MLAs would be decided today with their viewpoints to be put forth to Uttarakhand Assembly Speaker Govind Singh Kunjwal.
The Congress MLAs' lawyers and representatives have reached the Uttarakhand Assembly, while the media persons have been prohibited from entering the assembly premises by the Speaker.
Earlier there were reports that Govind Singh Kunjwal on Saturday disqualified 9 rebel MLAs of the ruling Congress, an order that may help CM Harish Rawat to sail through a trust vote due on Monday. The decision to disqualify 9 legislators was taken following a meeting between the Speaker and the Chief Minister at latter's residence late night. A party leader said that all MLAs were suspended for 'indulging in anti-party activities'.
The rebel lawmakers led by former CM Vijay Bahuguna supported BJP legislators' demand for a conscience vote at the assembly's budget session on March 18 as the state faced a constitutional crisis. After this disqualification, the strength of the Assembly will reduce to 61. Rawat will have the support of 27 Congress MLAs and 6 others. The BJP has 26 MLAs in the 71-member House.
Also the Union Cabinet yesterday met to discuss the situation in Uttarakhand amidst speculation that it may consider the option of President's Rule. The Cabinet met soon after Prime Minister Narendra Modi returned from Assam.
The Cabinet meet was called after a BJP delegation met President Pranab Mukherjee and sought his intervention to dismiss the state government.
Uttarakhand Governor KK Paul has also sent a report to the Centre on the crisis in the state, saying the political situation was 'very volatile'.
On the other hand, opposition BJP in the state demanded President's Rule saying Rawat has no right to continue in the office. "We have requested the President to impose President's Rule in the state. The Chief Minister and his government do not have the right to be in the majority. After the sting operation, it became clear that there is no need for opinion and majority. They are trying to convert minority into majority," party general secretary Kailash Vijayvargiya said.
Yesterday only, Congress rebel legislators released a sting video of the Chief Minister which, they alleged, showed him indulging in horse-trading to save his government. The sting showed the CM allegedly offering money to legislators to vote for his government in the vote of confidence mandated by Governor KK Paul before March 28.
Releasing the video, rebel Congress lawmaker Harak Singh Rawat said the Chief Minister was trying to bribe the nine rebel Congress legislators as well as few of the BJP. He also alleged that the rebels have been receiving life threats.