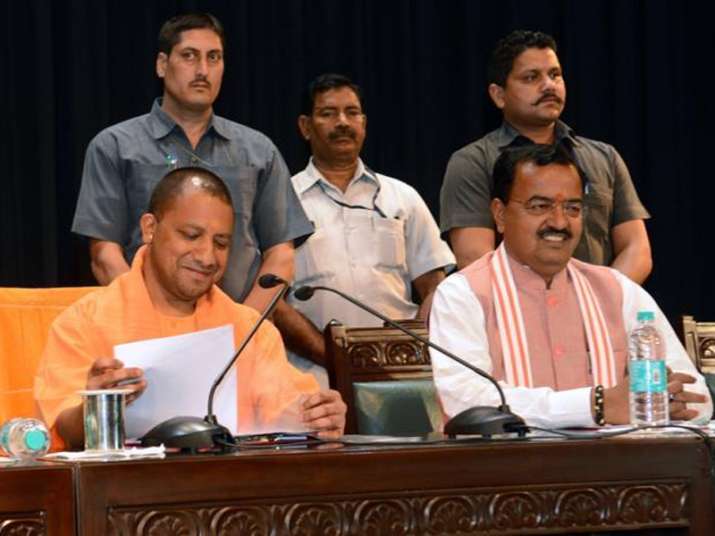 In the first Cabinet meet today, the Yogi Adityanath government in Uttar Pradesh waived off farm loans upto Rs 1 lakh. The decision will benefit nearly 2.15 crore small and marginal farmers across the state.
The move will cost the government Rs 30,729 crore. 
The decision also marks the fulfillment of BJP's poll promise to waive of farm loans if it comes to power in the state. 
The BJP, in its Lok Kalyan Sankalp Patra (manifesto), had promised to waive the loans of small and marginal farmers and Prime Minister Narendra Modi had said in his election speeches that writing off farmers' loans would be among the foremost tasks of the BJP government in Uttar Pradesh.
Here are the decisions taken by the Yogi Cabinet in the 90-minute meeting: 
1. Farm loan waiver for small farmers 
Briefing mediapersons after the meeting, senior minister Siddharth Nath Singh said all loans upto Rs 1 lakh will be written off.
The move will benefit nearly 2.15 crore farmers across the state and will cost the government Rs 30,729 crore. Besides, the government has also waived off the non-performing asset (NPA) of 7 lakh farmers worth Rs 5,630 crore. 
Besides, there were about 7 lakh other farmers who had taken loans which turned into non-performing assets ((NPAs). 
In order to bring them back into the mainstream, their outstanding dues of Rs 5,630 crore have also been written off. 
The first cabinet meeting presided over by Chief Minister Yogi Adityanath decided to float Kisan Rahat Bonds for raising Rs 36,359 crore required for waiving loans of small and marginal farmers who form 92.5 per cent of the total 2.30 lakh farmers in the state. 
2. Slaughterhouses
The government has stated that it is committed to adhere the Supreme Court and NGT guidelines regarding abattoirs in letter and spirit. 
Health Minister Sidharth Nath Singh said: "There will be no compromise on illegal slaughterhouses. The ones that have applied for renewal of licenses would be considered and their licences would be renewed."
He said that so far 26 illegal abattoirs have been sealed by the authorities across the state and added that there has been no "overzealous" crackdown by the authorities. 
The authorities have so far taken action against illegal slaughterhouses and meat shops operating in different parts of the state. If the government decides to ban slaughterhouses, the state will lose Rs 11,350 crore a year. 
Th BJP had in its manifesto promised to close down all illegal abattoirs if it comes to power. On many occasions, BJP president Amit Shah had vowed to shut all slaughterhouses in the state. 
3. Wheat procurement:
The Cabinet decided to provide Rs 10 per quintal in addition to the Rs 1,625 per quintal minimum support price for wheat procurement this season as loading and unloading charges. It was also decided that 5,000 wheat centres will be set up in the state monitored by ministers for smooth procurement of the crop this season, senior ministers Siddharth Nath Singh and Srikant Sharma told newspersons here. 
For this season, the target of 80 lakh metric tonnes of wheat procurement has been fixed and in the first phase it will be 40 lakh metric tonnes, they said adding that instructions have been issued to ensure direct procurement from farmers and no harassment at the purchase centres. 
There will be no role of middlemen in wheat procurement, they said, adding that no one will be allowed to play with the interests of farmers and stern action will be taken in case of laxity in any of the purchase centres. 
District officials have been asked to make all preparations for procurement besides extending basic amenities like water and shade for farmers arriving there. 
An official spokesman said of this, state agencies will procure 70 lakh metric tonnes and FCI 10 lakh metric tonnes. 
4. Potato farmers: 
The Chief Minister also constituted a committee headed by Deputy Chief Minister Keshav Prasad Maurya and comprising ministers Dara Singh and Surya Pratap Shahi to find out ways to provide relief to the state's potato growers.
The committe will see how they can get adequate remuneration for their produce. The committee will also look at how to help the potato growers. 
5. Industrial policy: 
The cabinet also took up the issue of investments in UP for setting up industries so the youth get better employment opportunities in the state itself. For this, a five-member GoM headed by another Deputy Chief Minister Dinesh Sharma has been constituted. It would visit other states and study their industrial policies. 
The GoM will study the policies of BJP-ruled states like Gujarat and Madhya Pradesh among others for preparing an industrial policy for UP for enhanced investment through a single window system. 
"A Group of Ministers, with five ministers as its members, has been constituted. It would visit various states in the country to help the government to form a new industrial policy," Power Minister Srikant Sharma said at a press conference here.
6. Illegal mining:
The Cabinet also has taken a decision to form a Group of Ministers under Dy CM Keshav Prasad Maurya to prepare a report on illegal mining.
The GoM will give its report in a week. 
7. Sports stadium in Ghazipur 
The Cabinet approved the construction of a sports stadium in Ghazipur in Eastern Uttar Pradesh. 
8. Anti-Romeo squads: 
The recently formed anti-Romeo squad to check eve teasing was also discussed in the Cabinet meeting.
Addressing the media after the meeting, Power Minister Srikant Sharma said the anti-Romeo squads were doing a "good job" and slammed opposition parties for creating a controversy about them.
"Anti-Romeo squads are doing a good job and are being hailed by the people of the entire state," Sharma said alleging that opposition parties tried to create controversy and demean it after the squads were formed.
He said that before going to the field, members of the squads are properly briefed by senior police officials.