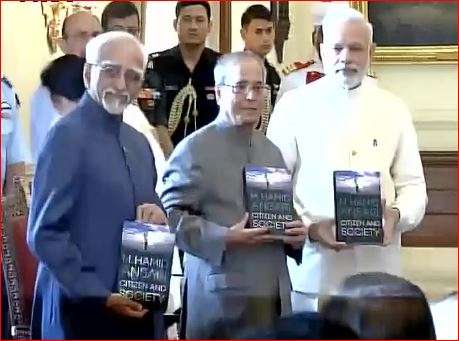 Prime Minister Narendra Modi today said that technology has converted citizens into netizens.
Speaking at a function marking the release of the book "Citizen and Society", authored by the Vice-President Hamid Ansari, PM Modi said that the technology has obliterated the traditional boundaries.
The book was released by President Pranab Mukherjee at Rashtrapati Bhawan.
PM Modi, however, pointed out that in case of India, there is a unit called "Family" between citizen and society, which has been our biggest strength.
He further said that India should be proud for being a country of so many dialects, languages and faiths, living in harmony.
He credited all the citizens for having made a contribution in making it a reality. 
Speaking on this occasion, the Vice-President Hamid Ansari said, "An Open Society like ours needs more debate and a greater elbow room for unorthodox views. A plural society like ours needs to develop the mindset to move beyond tolerance to acceptance of diversity."