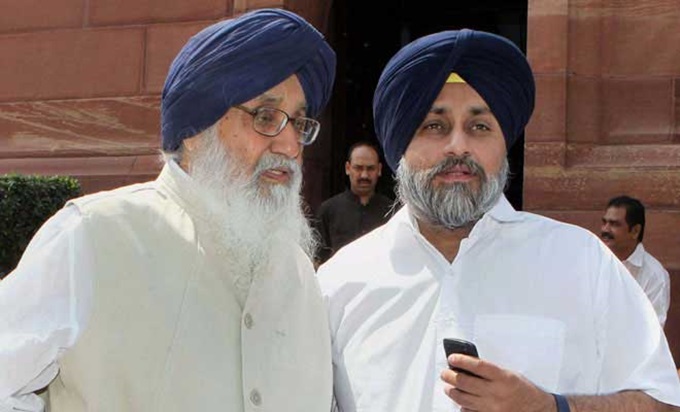 After the Supreme Court announced its verdict on the Sutlej-Yamuna Link water sharing agreement, Punjab Chief Minister Prakash Singh Badal said that the state will not 'share a drop its water' with any other state.
"We will not let the water go, and we will do anything for that," Punjab CM said while addressing the press conference.
Echoing CM's statement, Deputy CM Sukhbir Badal said: "Punjab council of ministers declared that not a single drop of water from Punjab rivers would be allowed to go out of state."
"A decision taken at an emergency meeting of Punjab cabinet said that Punjab Govt would not allow SYL to be built at any cost," the Deputy CM said, adding that not a single brick would be allowed to be laid for its construction by any agency.
Earlier, the Supreme Court held the Punjab Termination of Agreement Act, 2004, as null and void and said that work on the canal must continue.
The court in its judgement said that the Sutlej-Yamuna Link canal, which is at the centre of a row between Punjab and Haryana, has to be completed.
"Centre will now take over the canal and continue building it," the judgement said.
The SYL canal controversy involves sharing of waters by states, including Punjab and Haryana.
The SYL canal was conceived for the sharing of Ravi and Beas river waters after Haryana was carved out of Punjab in 1966. However, Punjab has been regularly opposing it saying its agriculture will suffer.
Meanwhile, reacting to the verdict, all Punjab Congress MLAs sent their resignations to Punjab PCC Chief Captain Amarinder Singh.
According to a ANI tweet, Captain Amarinder Singh also resigned as MP from the Lok Sabha in protest against the Sutlej Yamuna Link canal row verdict.
In his resignation, Amrinder Singh said: "The Central government and the state govt failed to come to rescue of the people of Punjab in time to save them form the sorry plight into which they have been plunged by the apex court judgement."
"It is my moral duty, in the circumstances, to extend my solidarity to the people of Punjab and join them in their fight for justice. I have decided therefore to quit the Lok Sabha.," he added.
Reacting on the resignations by Capt Amarinder Singh and Congress legislators, Punjab CM Badal had said that it was a mere political drama. He said the opposition leaders had never struggled for the nation or worked for the interests of Punjab.