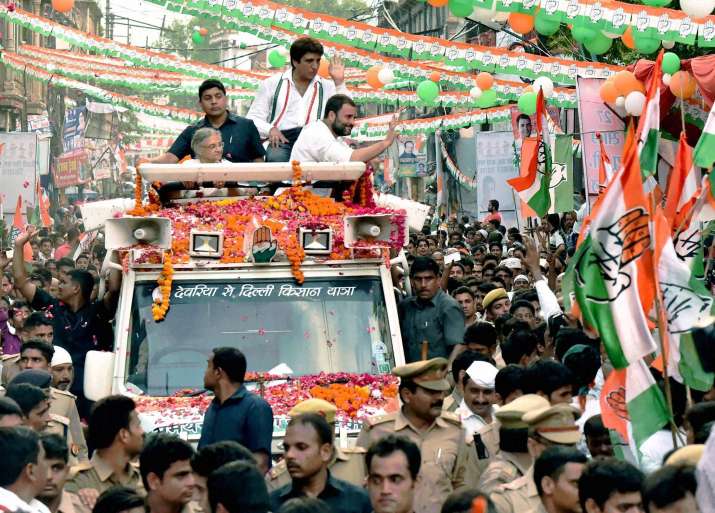 A shoe was hurled at Congress vice-president Rahul Gandhi during a road-show in Uttar Pradesh's Sitapur on Monday, during his Deoria to Delhi 'Kisaan Yatra'.   
The shoe, however, did not hot Gandhi and landed at anoher person next to him.
The man, identified as Hari Om Mishra, was detained by the security officials. He is believed to be between 30 and 35 years in age. 
Addressing the gathering a whil later, Rahul Gandhi targeted Bhartiya Janata Party and Rashtriya Swayamsevak Sangh (RSS) saying he will scare of these tactics. 
"A short while ago somebody hurled a shoe on us, it didn't touch me. I want to tell the people of BJP and RSS people - throw as many shoes on me as you want, I am not scared of you," Rahul said. 
The incident is being considered as a major lapse in the security of Rahul Gandhi, a Special Protection Group (SPG) protectee.  
Local hurls a shoe towards Congress VP Rahul Gandhi during his road show in Sitapur(UP),detained by police pic.twitter.com/oU3YsB3Fru

— ANI UP (@ANINewsUP) September 26, 2016
Rahul Gandhi is currently touring UP as part of his Kisaan Yatra and is holding 'khaat sabha' and road shows at various stops.  
Sitapur (UP): Local attempts to hurl a shoe at Cong VP Rahul Gandhi during his road show, arrested by police. pic.twitter.com/wCl2cVqOEP

— ANI UP (@ANINewsUP) September 26, 2016
His journey, coming months ahead of the UP assembly elections, is focussed on farmers' problems in the state.