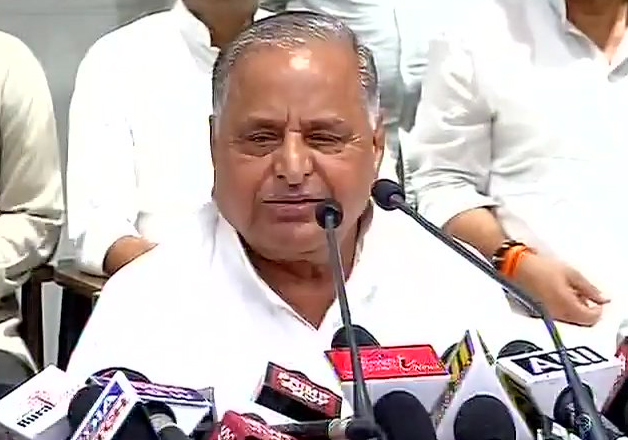 Samajwadi Party chief Mulayam Singh Yadav today said that the decision to reinstate sacked ministers including Shivpal Singh Yadav in the Cabinet "rests with Chief Minister Akhilesh Yadav". 
Addressing a press conference in wake of the series of untoward incidents among family members in the party, the SP chief today reiterated that both the family and the party were united. Akhilesh was conspicuous with his absence at the press conference, while his uncle Shivpal Singh Yadav was seated next to Mulayam. 
While emphasising that Akhilesh remains CM, Mulayam made it clear that a second term is not a given if the party wins the election. "You will automatically know who will be the CM once we get the majority (Humara bahumath aane dijiye uske baad aapko pata chal jaaega)," said Mulayam Singh.
He also said that the last state election, after which Akhilesh was made Chief Minister, "was fought on my name."
"Yes it's true that the majority was in my name (in 2012), we made Akhilesh CM. Now its up to him to carry out responsibilities. Now, Akhilesh is the Chief Minister. Is there any opposition to this?" he added.
The media briefing here followed a string of attacks by his former party general secretary Ram Gopal Yadav. The SP supremo, however, set it aside as irrelevant saying he no longer pays heed to what Ram Gopal has to say. 
"I don't give any importance to what Ram Gopal Yadav says now."
When asked about the internal rift within the family, he said, "We are one family, one party, we are united (Humara parivaar ek hai, party ek hai, poori taakat ek hai)."
"I will not give even a single controversial answer, no matter how many controversial questions you may ask," he added.
On Amar Singh he said, "Why bring Amar Singh into everything?"
Earlier on Sunday, in a dramatic tit-for-tat event in ruling SP, Akhilesh Yadav had ousted his uncle Shivpal Yadav and three others from the government, while the party brass retaliated by sacking general secretary Ram Gopal Yadav for six years from the party. 
UP Assembly polls are due early next year. In the 2012 polls, the Samajwadi Party had won a record 224 seats in the 403-chair House.