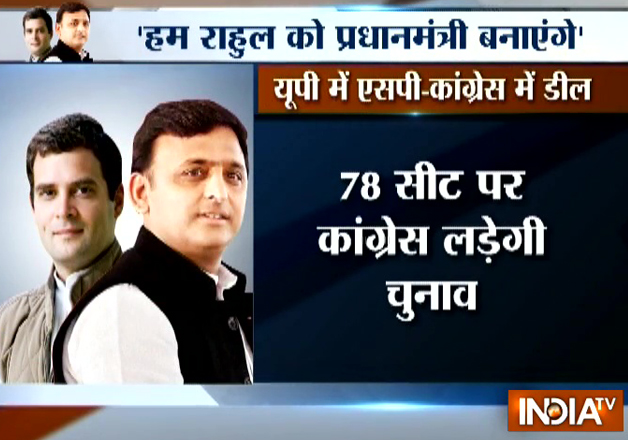 Negotiations between the Samajwadi Party, Congress and Rashtriya Lok Dal (RLD) are at last stage for a pre-poll alliance ahead of next year's crucial Uttar Pradesh Assembly polls. 
Reports suggest that the parties have also mutually agreed to a seat sharing formula according to which the Samajwadi Party will contest on 303 seats, while the Congress and Ajit Singh's RLD will field candidates on 78 and 22 seats, respectively. 
It is also believed that the Samajawadi Party has offered the post of Deputy Chief Minister to Congress. 
Sources told India TV that, on December 22, Congress vice-president Rahul Gandhi had met SP supremo Mulayam Singh Yadav and it was only during that meet the decision to contest the polls together was finalised. 
It is also said that Congress party's UP poll in-charge Ghulam Nabi Azad had held several round of parleys with Mulayam to iron out issues. 
If all goes well, the decision of pre-poll alliance between the three parties will be announced very soon, sources said.
The Congress party knows that the next year's poll is crucial for it to revive its base and as well as its 'pro-poor image'. The grand old party also knows that the roadmap for 2019 Lok Sabha polls will be decided during the UP polls and hence it has agreed to support Akhilesh Yadav's name for the chief ministership for second consecutive term. 
In return, sources said that the SP has agreed to contest less number of seats in 2019 general election and also support Rahul Gandhi's name for prime ministership.
It should be noted that alliance talks between SP and Congress have been doing the rounds in media from last few months with Akhilesh and Rahul praising each other on many occasions. The talks gained momentum when poll strategist Prashant Kishor met Mulayam and Chief Minister Akhilesh Yadav in November. 
The Congress currently has 29 legislators in the 403-member assembly, while RLD has only nine.
While the Samajwadi Party is looking to get another term, the Congress wants to be the kingmaker this time. The grand old party had secured just two seats in the last Lok Sabha elections with party chief Sonia Gandhi and Rahul Gandhi emerging victorious from their traditional seats of Rae Bareli and Amethi, respectively.
The Congress is in political wilderness in Uttar Pradesh since 1989 following emergence of divisive 'Mandal-Mandir' politics and rise of the BSP, which took away its crucial Dalit vote base.