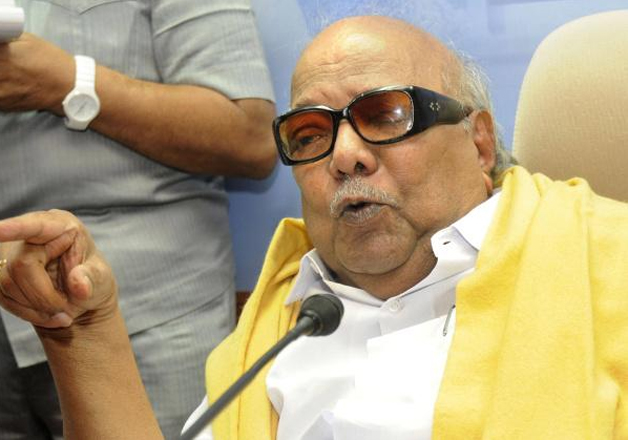 DMK president M Karunanidhi today asked the Tamil Nadu government to release photo of CM Jayalalithaa from hospital to put an end to rumours regarding her health.
Karunanidhi, while wishing his arch rival a speedy recovery, asked Governor Vidyasagar Rao to ensure a transparent system to inform people about Jayalalithaa's actual health status.
"As I had already mentioned, though I differ with her ideologically, it is my desire that she recovers soon and take up official duties as usual," he said and expressed hope that Jayalalithaa, who is hospitalised in Chennai Apollo Hospital for a week, will recover soon from illness. 
Karunanidhi said although Apollo hospital, where the Chief Minister is recuperating from fever and dehydration, was issuing bulletins about her health, "some unwanted rumours" were deliberately being floated by "some persons." 
"Some persons are spreading unwanted rumours about her health on the social media and to put an end to these, proper information about the Chief Minister's health must be made available to the people," he said in a statement. 
The last medical bulletin regarding the CM's health was issued on September 24. But after rumours, the hospital yesterday issued a press release stating that she was responding well to treatment and has been advised to spend a few more days in the hospital for recuperative treatment.
Karunanidhi suggested that photographs of the Chief Minister be released through the media to quell any kind of rumours being circulated about her health. 
Jayalalithaa (68) was admitted to the hospital on September 22 after she complained of fever and dehydration. 
She has been advised to stay for a few days at the hospital. 
Meanwhile, AIADMK slammed the rumour mongers and said efforts were being made to confuse people and party workers. 
"Some persons are trying to create confusion among people and party workers by spreading rumours," party spokesperson C R Saraswathy said. 
She pointed out that Jayalalithaa has been, among others, monitoring the Cauvery situation from the hospital while also announcing festive bonus for state government employees on Wednesday. 
Expressing concern over rumours being spread through social media, the spokesperson said such platforms should be used in a constructive way. 
With PTI Inputs