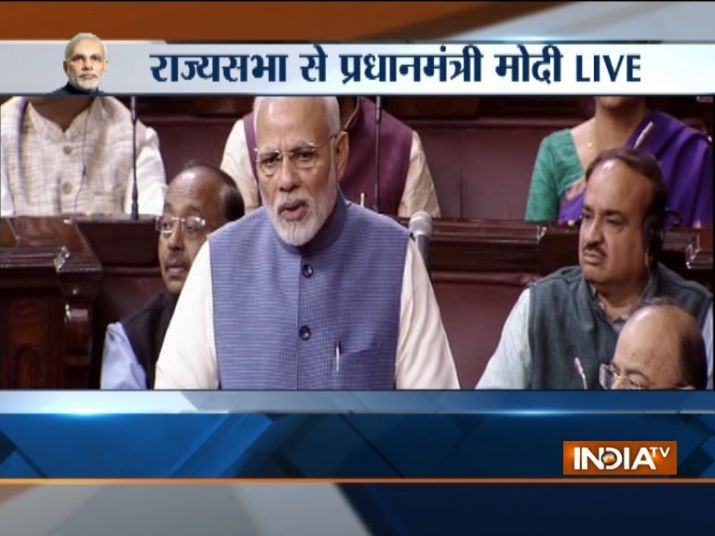 PM Narendra Modi on Wednesday thanked retiring members of the Rajya Sabha for their contribution to the House's proceedings. However, the Upper House of Parliament witnessed continued disruptions after the prime minister in his speech said that retiring members would not be able to participate in debates when the House decides on important bills such as the one which seeks to criminalise the practise of instant triple talaq. 
The prime minister said "unfortunately", the retiring members will not be part of Parliament when the decision on instant triple talaq is taken. 
He also said the outgoing members must have prepared speeches on important issues so that their contribution is remembered. 
But they could not do so. He said the responsibility of smooth functioning lies not only with the opposition but also with the government. 
The Rajya Sabha, Modi said, is a distinguished House with eminent members serving here. He said the House plays a vital role in India's democracy. 
PM MODI ADDRESSED RETIRING MEMBERS OF RAJYA SABHA​: HIGHLIGHTS
11:32 am: We will always remember the distinguished work of Parasaran Ji. Who can forget the manner in which Professor Kurien has contributed to the Rajya Sabha.
11:31 am: The Rajya Sabha is a distinguished House, with eminent members serving here. This House plays a vital role in our democracy.
11:30 am: We bid farewell to some of our MP colleagues in the Rajya Sabha. They have contributed significantly to Parliament and we have all gained from their experience and insight.
11:29 am: PM Narendra Modi speaks in Rajya Sabha