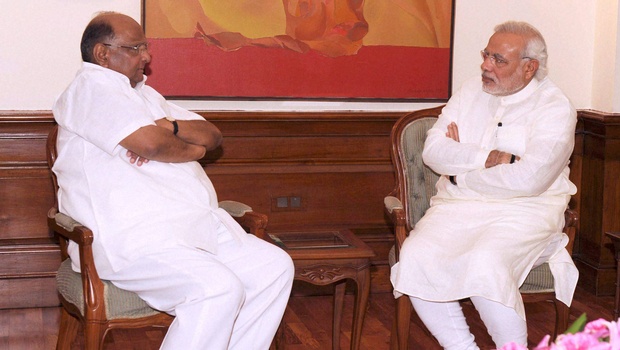 New Delhi: Prime Minister Narendra Modi today reached out to Sharad Pawar in the Upper House of Parliament and chatted with him for some time, fuelling speculation over whether he was seeking Pawar's help in getting the GST bill passed in the Rajya Sabha.
PM Modi had mentioned in the past that as Gujarat chief minister, he used to seek Pawar's suggestions in getting contentious issues resolved with the UPA government at the Centre.
Immediately after the Question Hour, when the House was dispersing for lunch break, the Prime Minister rose from his seat and walked towards the opposition benches.
He shook hands with Congress' Deputy leader Anand Sharma as he went up and reached Pawar with whom he was seen having a short chat.
Some other MPs including DMK's Kanimozhi and nominated member Anu Aga also walked up to the Prime Minister and exchanged pleasantries. After having word with the NCP chief, Modi left the House.
The NDA government lacks majority in the Rajya Sabha and it hopes to get support from some opposition parties to ensure the passage of key bills like the one on GST.
(With PTI inputs)