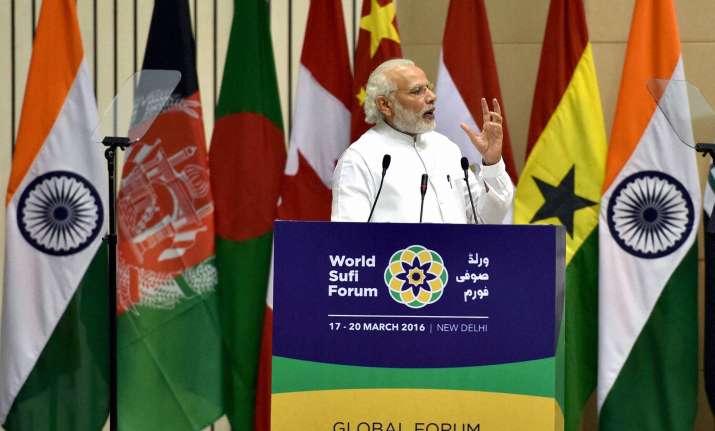 New Delhi: Prime Minister Narendra Modi today denounced terrorism and those who spread it saying it is a struggle between the values of humanism and forces of inhumanity. Approving highly of Sufism, PM Modi urged to spread its message that stands for the principles of Islam and the highest human values.
Speaking at the World Sufi Forum in New Delhi, the Prime Minister said, "Terrorism divides and destroys us. Indeed, when terrorism and extremism have become the most destruction of our times, the message of Sufism has global relevance."
Taking note of the growth of terrorism in the last few years, Modi said, "Last year alone, over 90 countries experienced terrorist attacks. Parents in 100 countries live with daily pain of their children lost to the battlefield of Syria."
PM Modi pointed to terrorism as the reason for the changes in people's lives. "There are forces and groups that are instruments of state policy and design."
Further in his speech at the four-day event, he said, "Terrorists kill and destroy more in their own land and among their own people than they do elsewhere", adding that terrorism is not a conflict to be fought only through military, intelligence and diplomatic means.
He also sought to delineate religion from terrorism and invoked Allah in his speech to drive home the point that Islam never propagated terrorism or violence.     
"When we think of 99 names of Allah, none stands for force and violence. Allah is Rahman and Rahim."
"Sufism is the voice of peace, co-existence, compassion, equality and a call to universal brotherhood."
"Sufism blossomed in India's openness and pluralism. It engaged with her spiritual tradition and evolved its own Indian ethos," he continued.
Addressing the audience of the mega-event, he said, "At a time when the dark shadow of violence is becoming longer, you are the noor or the light of hope. "When young laughter is silenced by guns on the streets, you are the voice that heals," he said.
Talking of India's diversity, PM Modi said, "All our people, Hindus, Muslims, Sikhs, Christians, Jains, Buddhists, Parsis, believers, non-believers, are an integral part of India. Diversity is a basic reality of nature and source of richness of a society; and, it should not be a cause of discord."
The event is being organised by All India Ulama and Mashaikh Board (AIUMB) and is attended by more than 200 spiritual leaders, scholars and academicians.