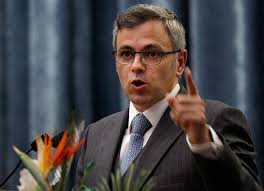 Former Jammu and Kashmir chief minister Omar Abdullah on Monday said that the "myth" of opposition unity was just a "chimera". 
"The myth of opposition unity has been systematically shown for what it is - a chimera. It's each 1 (one) for themselves in 2019 & 5 (five) more years 2 (to) BJP," Omar wrote on Twitter.
Omar Abdullah has hinted at the BJP returning to power in 2019 general elections. 
The National Conference working president was reacting the developments in Gujarat Rajya Sabha polls where Ahmad Patel, Congress candidate and confidante of party president Sonia Gandhi, is seeking a fifth term to the Upper House. 
"I can't remember the last time a #RajyaSabhaElection was such an attention grabbing event. This one is a real cliff hanger," Omar said. 
Omar expressed hope that there were people in the Congress who take note of opinions like that of Jairam Ramesh, who admitted that the party was in crisis. 
"I hope there are people in the Grand Old Party who sit up & take note of what Jairam is saying. Dismissing his views will be shortsighted," Omar said. 
Former Union minister Jairam Ramesh, in an interview with PTI, said "I would say that the Congress is facing an existential crisis. It is not an electoral crisis. The party really is in deep crisis."
Ramesh also said that the business as usual approach will not work against Modi and Shah, and advocated for change to make Congress relevant. "Yes, the Congress party is facing a very serious crisis," Ramesh told PTI in an interview.
He said the Congress had faced an "electoral crisis" from 1996 to 2004, when it was out of power. The party had also faced a similar crisis in 1977, when it lost the elections held soon after the Emergency.
The former Union minister hoped that party vice-president Rahul Gandhi would end the uncertainty over his taking over as the Congress president to make the party ready for crucial electoral battles in key states in 2018 and the Lok Sabha polls scheduled a year later.
(With inputs from PTI)