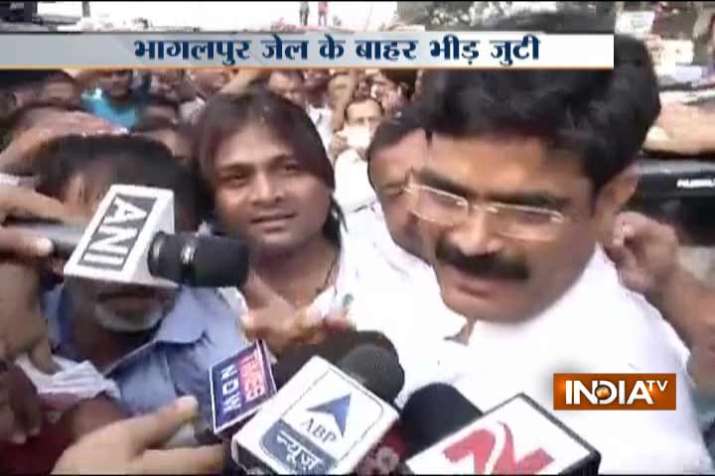 Gangster turned politician  Mohammad Shahabuddin walked out of Bhagalpur prison today a hero's welcome. He has been granted bail in an eyewitness murder case after a period of 11 years.
Talking to reporters, Sahabuddin dubbed Nitish Kumar as a chief minister of circumstances asserting that his leader will always be Lalu Prasad Yadav. 
"My leader is Lalu Yadav," said Shahabuddin, whose name has spelt terror in Bihar's Siwan district since the late 1980's.
Walking out of jail on Saturday, Shahabuddin dismissed the allegations. "Even when I was inside jail, there were murders happening. Why blame me for all those," he said.
The four time Rashtriya Janata Dal MP was welcomed by thousand  of his cheering supporters.A long entourage of SUVs reportedly escorted him back to his village Pratapur in Siwan district.
On September 7, Patna high court granted bail to controversial RJD leader in in a case of murder of a witness in the killing of two brothers in Siwan by bathing them in acid. Nitish's political opponents point to his release now as an example of the "return of jungle raj" to the state.
Rajiv was prime witness in the case of brutal murder of his two brothers- Girish Raj and Satish Raj- at Shahabuddin's native village in Siwan district on August 16, 2004.
Rajiv was shot dead in Siwan on June 16, 2014 when Shahabuddin was in jail. Shahabuddin's son Osama was accused of killing Rajiv, while the jailed former MP was later made accused in the case as conspirator.
The bail was granted by Justice Jitendra Mohan Sharma to Shahabuddinin in the case.
The petitioner's counsel Y V Giri told the Courtthat the allegation against Shahabuddinin the killing of witness Rajiv Roshan was baseless as he was lodged in Bhagalpur jail since 2014 while the incident took place in Siwan the next year. 
The RJD strongman and four-term former MP from Siwan is at present lodged in Bhagalpur jail. 
In a chilling incident, two brothers were killed in Siwan in 2004 by bathing them in acid. Their elder brother Rajiv Roshan who was an eyewitness in the case was shot dead in 2015.
Among the other high profile cases where the former MP is an accused is the murder of former JNU chairman Chandrashekhar Prasad.