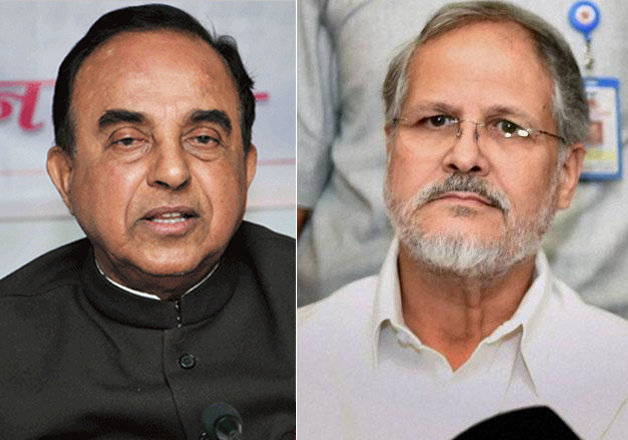 After a spell of silence following Prime Minister Narendra Modi's reprimand for his attacks on several top government functionaries, BJP's firebrand leader Subramanian Swamy today fired a fresh salvo – this time at Delhi's Lieutenant Governor Najeeb Jung.
Swamy today took to Twitter to launch a scathing attack on the LG, often blamed by the Arvind Kejriwal dispensation in Delhi of acting against the government at the behest of the Prime Minister. However, Swamy today likened Jung to Kejriwal saying he is "another 420 like (Delhi CM) Kejriwal".
"In my opinion, this LG of Delhi Mr. Jung is unsuited for this high post. He is another 420 like Kejri. We need a Sangh person in Delhi (sic)," he tweeted.
Swamy's observation about the LG came amidst reports that Jung has overturned 'illegal decisions' of the Aam Aadmi Party (AAP) government in appointing several officials at top offices.
Swamy also accused Jung of playing a 'mischievous role' in abetting Kejriwal at the behest of Congress to embarrass the BJP-led NDA government at the Centre.
"He (Jung) has no work other than making rounds of Ahmed Patel's place," he said.
Jung and Kejriwal have been at loggerheads ever since the latter came into power. Earlier this month, Delhi High Court had ruled that Jung remains the administrative head in the national capital.
In the past, Swamy had targeted outgoing RBI Governor Raghuram Rajan by calling him 'mentally not fully Indian', forcing PM Narendra Modi to rebuke the Rajya Sabha MP for his 'craving for publicity'.