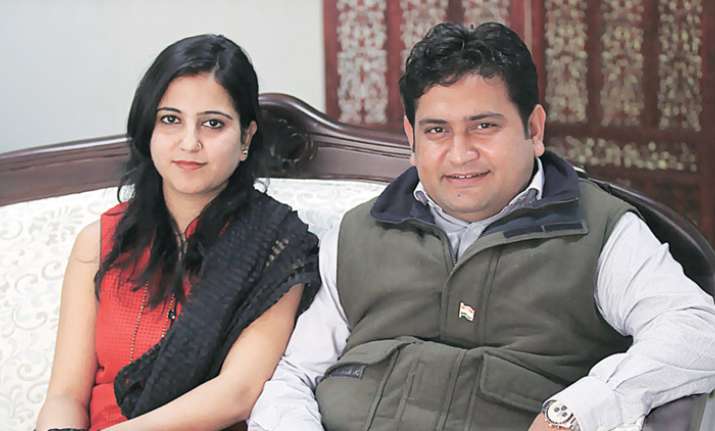 In a fresh turn of events in the sex scandal of sacked Delhi minister Sandeep Kumar, his wife, Ritu, today defended him by saying he has been falsely implicated in the outrage.
In an interview given to India Today, Ritu has come out in former AAP minister's support saying she stands by him and the truth will come out soon.
"My husband is innocent, I stand by him. Rape charges against my husband are a conspiracy," Ritu Kumar said.
On Saturday, the woman who appeared in the tape lodged a police complaint against Sandeep Kumar.
The woman told that she lost her consciousness when Kumar gave her 'cold drink laced with drugs'. The woman had reportedly gone to meet the minister for an issue related to her ration card.
Earlier in the day, the Aam Aadmi Party (AAP) suspended Kumar from its primary membership.
"In a high-level meeting held on Saturday morning, the party suspended primary membership of Sandeep Kumar," AAP's Delhi convenor Dilip Pandey said.
A further decision on terminating him from the party will be taken later, he added.
This comes a day after India TV reported that Sandeep had resigned on moral grounds and exposed Delhi Chief Minister Arvind Kejriwal's 'fake' claim that he sacked his minister within 30 minutes of receiving a video tape that allegedly showed him in a compromising position with two different ladies.
According to the resignation letter, Sandeep Kumar resigned on August 31, immediately after the video tape surfaced in the media. Kejriwal, however, claimed that he sacked Sandeep from his cabinet within 30 minutes of receiving the video tape.
Sandeep, who represents Sultanpur Majra assembly constituency, has claimed that he was paying the price for being a dalit.
"I am paying price of being a Dalit. I am not in that video. It is a media trial. I am from the Valmiki samaj and so it is a conspiracy again me," Kumar said.
Meanwhile, PTI reported that the AAP government is not in a haste to find a replacement for the Women and Child Development Minister as Kejriwal and his deputy Manish Sisodia will look after the department's work for the next few days.
However, there is a unanimity within the party and the government to have a dalit face as a replacement for Kumar. More importantly, the move will also be tactical, party sources said, as it is looking to woo dalit voters ahead of the Punjab Assembly polls to be held next year.
Although the party has 12 dalit MLAs, about eight-nine MLAs could be in the race to replace Kumar.
Seelmapur legislator Rajendra Pal Gautam is seen as a strong contender, party sources said.
Gautam, considered close to Kejriwal, also heads the legal cell of the party, apart from being one of the seven vice-presidents in the Delhi unit. However, one thing which could go against him is that Gautam is a Jatav dalit while Kumar is a Valmiki.
Apart from Gautam, others who are in the race are Vishesh Ravi, Prakash Jarwal, Ajay Dutt, Ved Prakash, Raju Dhingan, Girish Soni, Hazari Lal Chauhan and Fateh Singh.
"The Chief Minister, along with Home Minister Satyendar Jain will leave for the Vatican City tomorrow to attend the cannonisation of Mother Teressa to be held on September 4. He will return on September 5. In his absence no new face will be announced," said an AAP functionary.
Sources in the party said that after Kejriwal's return, Sisodia and Jain are expected to go to Goa for campaigning, which may further delay the announcement of Kumar's replacement.