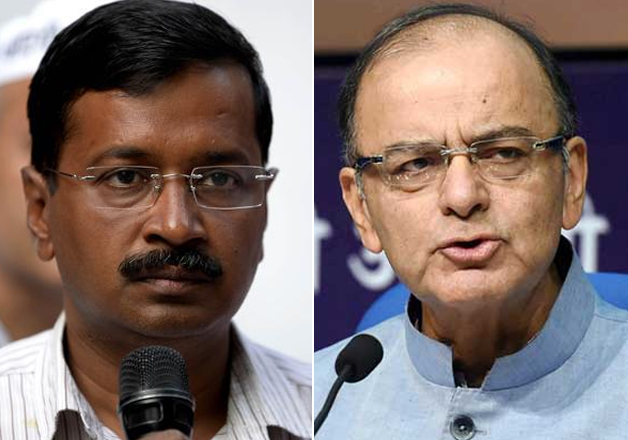 Finance Minister Arun Jaitley today slammed Delhi Chief Minister Arvind Kejriwal for making 'factually incorrect' statements on the changes in the Income Tax Act.
Responding to Kejriwal's charge that the government had slashed penalty on black money from 200 per cent to 10 per cent, Jaitley said that the steeper penalties proposed on black money deposits are in addition to 200 per cent provision for misreporting of income.
"Factually incorrect statements have been made by @ArvindKejriwal in relation to changes proposed in the Taxation Law," Jaitley wrote on Twitter. 
"Why should a former IRS officer, @ArvindKejriwal factually misrepresent changes in the Taxation Law?" he asked.
"The existing provision of penalty of 200 per cent for misreporting income under Section 270A has not been changed," he said.
The amendment changes the existing provision of charging only 30 per cent tax on unexplained cash shown in the Income Tax returns to 60 per cent tax, plus 25 per cent of tax as surcharge and 3 per cent of tax as cess.
"This is a total of 77 per cent of tax in case if assessee shows it in the (Income Tax) Return. Otherwise 85 per cent of income will be payable as tax plus penalty," Jaitley said.
Also, penalty for search and seizure has been raised from existing 10 and 20 per cent to 30 per cent even if assessee admits and shows it in his returns. "Otherwise 60 per cent of income will be the penalty," he said.
In the newly introduced Pradhan Mantri GKY, apart from 50 per cent of income being taken as tax, penalty and surcharge, 25 per cent of disclosed income has to be kept as interest free deposit for four years, he said.
The Taxation Laws (2nd Amendment) Bill was passed by the Lok Sabha yesterday, providing a window to legalise black money after paying tax on the amount post-demonetisation. As per the Bill, those who disclose black money to banks will have to pay 50 per cent tax, including surcharge and penalty. The Bill to amend the Act was passed without voting in the Lower House.