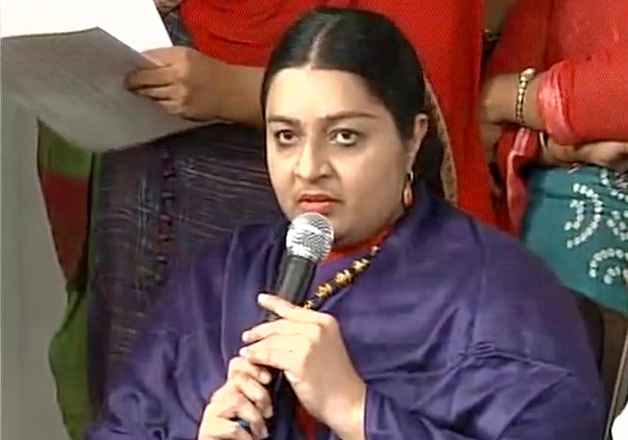 Late Tamil Nadu CM and AIADMK supremo Jayalalithaa's niece, Deepa Jayakumar, today launched a new political front -- Amma Deepa Peravai -- on the occasion of her aunt's 69th birthday.
Addressing the media here, Deepa, without naming anyone, vowed to free the ruling AIADMK from 'traitors'. 
"Amma Deepa Paravai is the platform we launch formally today. There is a 'traitor' group behind the government and we will work continuously to throw away this group," she said. 
The development comes on a day when Jayalalithaa's nephew Deepak Jayakumar turned rebellion and backed O Panneerselvam over CM E Palaniswami amd claimed that the late AIADMK chief had left behind her properties including her Veda Nilayam bungalow in Poes Garden to him and his sister. 
#Jayalalithaa's niece Deepa Jayakumar launches 'MGR Amma Deepa Peravai'. pic.twitter.com/RBxt7qYR6O

— ANI (@ANI) February 24, 2017
Deepa said that she will contest the polling from RJ Nagar seat which was vacated after the demise of Jayalalithaa on December 5 last year.
"People continuously expressing interest in it (my contesting). I am definitely going to take that call and contest from RK Nagar," she said. 
When asked about ties with expelled AIADMK leader and Jayalalithaa's 'Man Friday' O Panneerselvam, Deepa didn't rule out joining hands with him.
In a veiled attack at VK Sasikala and family, Deepa said that Chief Minister E Palaniswami was not a popular choice among people for the top post.
"This kind of hijacking of the party was not good. He (Palaniswami) was not the person people wanted as CM. There is a traitor group working behind the govt and we will work continuously to throw away this group," she said.
Deepa had in the past lashed out at Sasikala for forcefully removing OPS from the CM post and even smelled some foul play in the death of Jayalalithaa.