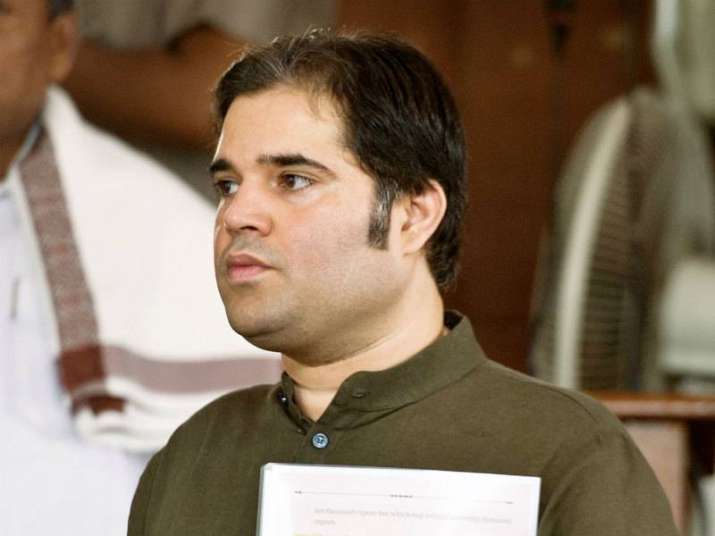 BJP MP Varun Gandhi is in the eye of storm after an arms dealer alleged that the Sultanpur lawmaker was honey-trapped with some senior military officers and foreign sex workers to extract sensitive information about defence deals.
Rather than embarrassing the saffron party, the accusations seem to have brought his harshest critics within the party to the forefront. In fact, sources say that the party will not be making attempts to defend Varun Gandhi on the matter and an advice in this regard has also been sent to the party's spokespersons.
Talking to India TV, Allahabad MP Shyama Charan Gupta said that the allegations made by the arms dealer are very serious in nature and given that their claims are backed by proof, it is definitely an embarrassment.
"Although I have not gone into the depth of the matter, it will be extremely shameful if what is being said turns out to be true," said Shyama Charan Gupta.
He also took swipe at Gandhi saying that people from big families have big secrets. "The members of big families always have a dark secret behind them," he said.
He also said that strong action should be taken against Gandhi for bringing disrepute to the party.
Union water resource Minsiter Uma Bharti also took a dig at Gandhi saying that she is more interested in taking questions on water rather than honey.
"If you have any questions on water please ask, those who get involved in such things get drowned and some come out (isske chakkar me acche-acche doob jate hain, nikal aate hain)," she said.
US whistleblower claims of Varun Gandhi being honey-trapped
According to Swaraj Abhiyan leaders Prashant Bhushan and Yogendra Yadav, US-based whistleblower C Edmonds Allen had written to Prime Minister Narendra Modi's office (PM), claiming that Gandhi has been honey trapped and compromised by arms merchant Abhishek Verma.
Allen, in the letter dated August 25, 2016, alleged that Verma "blackmailed" Varun, then a member of the Defence Consultative Committee, into sharing sensitive information on crucial arms matters.
Speaking to India TV, Bhushan claimed that defence middlemen have a network of compromised defence officials which they have achieved by honey-trapping them through escort services and prostitutes.
When asked if the allegations did not amount to character assassination of the BJP MP, Bhushan said that Ellen has enclosed evidence in his letter to the PMO which he does not wish to make public.
On the threat of defamation case by Gandhi, Bhushan said he would be happy to publish remaining evidences if the MP files a criminal defamation case.
The Supreme Court lawyer further questioned the government's motive behind its silence and questioned why it did not act on the matter despite being in the know of the entire issue.
Bhushan alleged that despite having all the details, BJP government did not blacklist Thales, the company that sold scam-tainted Scorpene submarines, as Dassault acquired it. Allen, who was a partner of Verma, fell out with him in 2012. Verma is facing trial in the 2006 Naval War Room leak case and is currently out on bail.
"This goes beyond sleaze. This government has knowingly done nothing. On May 30, 2014, the CBI Director was informed by the current Chief Vigilance Commissioner about huge instances of corruption. Yet no FIR was registered," Bhushan said.
"Allen's details show even Verma's wife boasted about being a middleman for many naval projects," he said.
Varun denies allegations
Denying all the charges, Varun issued a statement saying that "the entire information presented does not contain an iota of proof that either I had access or shared any communication regarding sensitive information to Verma."
"I am going to turn 37 now. I have never met him since I entered public life in 2004. The only reason why I even know of him is because his parents were members of parliament and was a respected family. I knew them as many other leaders knew them," he said.