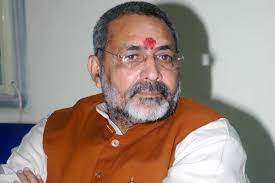 Union Minister of State for Micro, Small and Medium Enterprises (MSME) Giriraj Singh today kicked up a controversy pitching for a rise in Hindu population in the country, saying that religion can only protect us if we do the same for.
"People of the country are demanding a Ram temple, but how will a Ram temple be made if there are no Ram-bhakts in the country," he said while addressing a programme at Devbad area of Saharanpur district.
"The Hindu society needs to increase their population, it has been continuously decreasing in eight states of the country," the minister of state for MSME said.
At the time of partition, there were 22 per cent Hindus in Pakistan which has now decreased to 1 percent, while in India the Hindu population at that time was 90 per cent and Muslims constituted 10 per cent, but now the population of Muslims has gone up to 24 per cent while that of Hindus have declined to 76 per cent, he said.
This is not the first time Giriraj has sparked a controversy with his remarks.
Earlier in April, he had said that 'Hindu daughters' need protection and the only way to ensure it is to enforce a two-child policy for all religions.
"The Centre needs to enforce a two-child policy for all religions, else the population of Muslims will rise and Hindu girls will not be safe. "Nahin toh hamein bhi Pakistan ki tarah apni betiyon ko parde mein bandh karna hoga (Otherwise, like Pakistan, we too will have to keep our daughters under veil)," he had said.