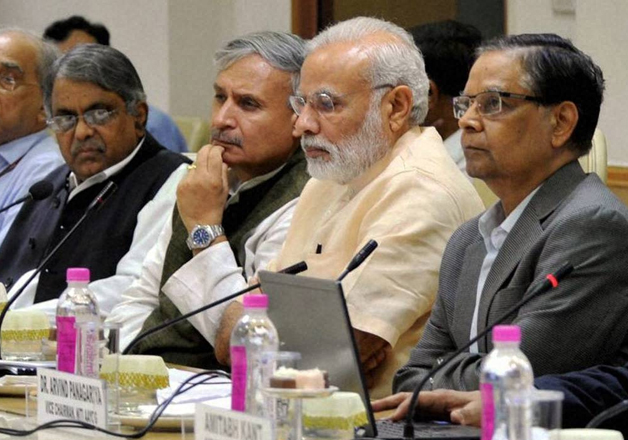 Prime Minister Narendra Modi has asked the NITI Aayog to prepare a road map for country's transformational change in the next 15 years.
Interacting with members of the NITI Aayog in New Delhi yesterday, the Prime Minister said the time for incremental change is now over and the current age requires transformational change.
Modi said the "niyat" (intentions) of policymakers is even more important than the "niti" (policies) itself.
Speaking to media after the meeting, Vice Chairman of NITI Aayog Dr Arvind Panagariya said, the Prime Minister asserted that the Union Government has the courage and the ability to deliver transformational change for bettering the lives of the people.
"Prime Minister said I am a person who does experiment and I have confidence this shows results," Panagariya said.
"The NITI Aayog should strive to excel and come out to take new challenges and Vision Document should lay the foundation of the 21st century for India," an official source later said quoting the Prime Minister.
Pointing out that historically, Indian policymakers had tended to lament the country's constraints rather than play to its strengths, he said judicious and intelligent application of India's natural resources and human resources would be at the heart of this change.
PM Modi said that technology will continue to be a key driver of economic growth and instrument for poverty elimination in India.
"India has not succeeded in making the best and efficient use of the natural resources such as solar energy and there is need to make an exhaustive list of untapped natural resources and the potential of which that can be fully exploited. Optimal utilisation of India's existing resources should be the way forward for charting out a growth strategy for India," he said.
Talking about human resource development, the Prime Minister said focused skill development is vital, as India has the potential to fulfil the global requirement of human resources in the future.
The Prime Minister also stressed on the need to develop India's tourism potential. He stressed on the importance of states in development.