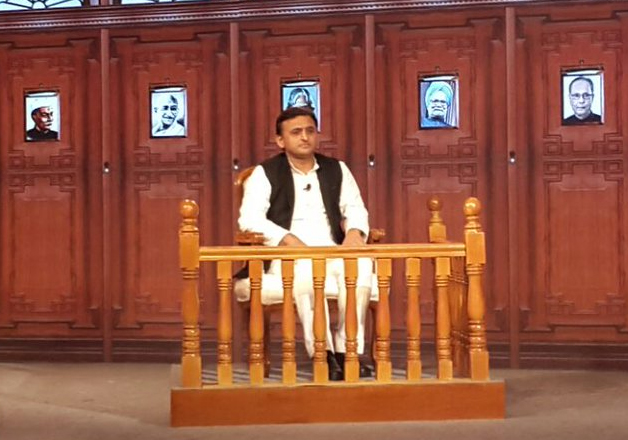 Uttar Pradesh Akhilesh Yadav today finally broke his silence over the infighting in the party that has created an uproar in the dynamics of the state politics just ahead of the assembly polls slated for early next year.
Speaking at the India TV's Chunav Manch conclave in Lucknow, the 20th CM of the state rubbished the reports that he is behind the fight within the 'first family' of the state.
"I take tough decisions, may be because I am young," he told India TV Editor-in-Chief Rajat Sharma. 
Akhilesh also said that he will give up everything including the CM post but he will have the authority to distribute the tickets in the upcoming assembly polls. 
The Chief also expressed confidence that Netaji (Mulayam Singh Yadav) will surely find a solution to the rift within the party.
He accepted that he was hurt by the party leadership's decision to remove him from the post of SP's UP unit chief. 
When asked about the controversy over Qaumi Ekta Dal's (QED) merger with SP, he said, "We would've merged QED in Samajwadi Party but then media would have blamed us."
Here is the list of top 15 quotes of Akhilesh: 
1. I did not ignite any feud in the Samajwadi Party. I can say, there is no fight. There can be some disagreements. This feud is not because of me, I think this is because of the chair I am sitting in.
2. He (Shivpal Singh Yadav) is my uncle, I have not accepted his resignation.
3. Akhilesh reiterated his stand against 'outsiders' creating a rift in the government, saying: "Everyone understands who is this outsider, even you know that". When asked how many outsiders he was referring to, Akhilesh said, "There could be one". 
4. I have told Netaji (Mulayam Singh Yadav) that if outsiders come between us, he will be thrown out. Netaji and me have decided that we will not let outsiders come between us.
5. If there is some issue, Netaji will find a solution and everyone will accept it. Netaji is my father and also his (Shivpal) brother, he will find solution to this issue.
6. I have said that I take some decisions on instructions of Netaji, I take some decisions on my own. Samajwadi Party is a family, there are no differences in the party.
7. The one who is on the top, is always lonely.
8. It is my responsibility as a son to accept Netaji's decision​. I accept Netaji's decision to bring Gayatri Prajapati back into cabinet.
9. It is elections time, we should all come together and work. There is no fight between Ramgopal Yadav, Akhilesh and Shivpal. 
10. I will give up everything if someone asks me humbly. But then I should have the authority to distribute tickets. 
11. I will even leave the CM chair, but it depends on the person asking me to do so.
12. You can compare our development work with those who promised 'achhe din'. I want to set an example with construction of Lucknow Metro. 
13. Rahul Gandhi said our bicycle is punctured… actually he is fooling farmers. He knows bicycles now come with tubeless tyres. People now trust us that whatever promise we make, we fulfil it.
14. 24-hour electricity that Varanasi is getting is not because of the BJP government at the Centre, it is because of us (Samajwadi government). 
15. Starting October, our government will provide 16 to18 hours electricity in rural areas and 22-24 hours electricity in cities