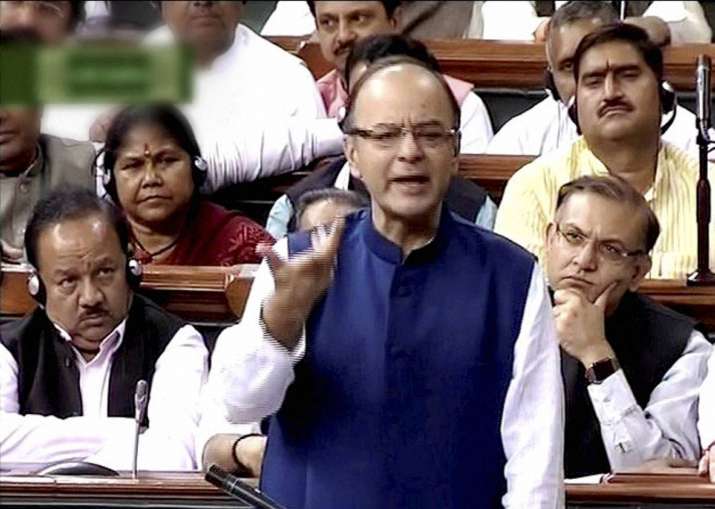 New Delhi: Government today hit back at Rahul Gandhi for his 'Fair and Lovely' jibe, saying it reflects a "racist mindset", even as it sought support of Congress for passage of bills like GST and bankruptcy with a contention that India can grow faster in "absence of obstructionism".
Finance Minister Arun Jaitley also responded to attack on the government over Vijay Mallya leaving the country amidst loan default, saying there was a "question" as to whether the "legal system" had acted as a "hurdle" in loan recovery and enabled the "escape" of the defaulter.
Replying to a debate in Lok Sabha on the General Budget 2016-17, he also rejected demands for rollback of 1 per cent excise duty on jewellery saying it was in preparation for unveiling of the Goods and Services Tax (GST) which hopefully will "come soon".
The House later passed the Appropriation Bill completing the first phase of the Budgetary exercise for 2016-17.
While talking about black money, Jaitley referred to the 'Fair and Lovely' comment made by Gandhi while speaking in the House last week.
Without naming the Congress Vice President, the Finance Minister said, "I have no problem with this phrase.. But this phrase is politically incorrect. It shows a racist mindset that what is not fair is not lovely."
He went on to add, "Worldover people frown on use of such a phrase. In any case I will pass it off as ignorance."
Gandhi had used the phrase while alleging that the government had brought the blackmoney disclosure scheme in the Budget to enable conversion of black money into white.
Jaitley insisted that the government's proposal was not an amnesty scheme, Voluntary Disclosure of Income Scheme (VDIS) or any concession, unlike the schemes brought by other governments earlier.
Noting that the global environment was a challenging one, the Finance Minister said the country needs to rise above party lines to maintain the distinction of being the fastest growing large economy.
"We compare ourselves with global standards, we are doing good. But if we compare ourselves with own standards we can do better in a more helpful global environment and domestically in absence of an obstructive environment," he said.
Seeking support of the Congress, he said "the country needs bankruptcy law. Hope the joint committee will soon give its report so that it gives the right of transfer the management. So that incompetent can exit, jobs are saved and more competent can take on the businesses".
Talking about the blackmoney disclosure scheme brought by the government in the Budget, Jaitley said it was unlike the earlier VDIS or black bond scheme which favoured the black money holders.
Under the proposed scheme a declarant will have to pay 30 per cent tax and 15 per cent surcharge and penalty, he said.
The Finance Minister referred to the VDIS of 1997 and said under it, no interest, no penalty was imposed and the declarants were permitted to value their assets at 1987 price.
Similar concessions were available in the black bond scheme, he said.
"That is why I said that it is out of ignorance that such a phrase (is used by Rahul)... It is also borne out of ignorance of your own history," he told the Congress benches.
Jaitley, in his 2016-17 Budget, has announced a disclosure scheme under which a four-month compliance window ending September 30 will be provided to people to declare undisclosed domestic assets and income and come clean by paying 45 per cent tax and penalty.
"This is not an amnesty or VDIS. If you have any undeclared asset today, you have to declare it at today's
market value and pay 50 per cent over the tax. So it is not amnesty, VDIS or concession," Jaitley said.
The United Front government, during which P Chidambaram served as Finance Minister, had given an affidavit in the Supreme Court that it was the last amnesty scheme of the government.
The government gave the affidavit thinking "after me the deluge", Jaitley said, adding "sarkar toh chali gayi, lekin Bharat toh jivit rehene wala tha (Government did change but India had to live on)... What was the need for any government to bind any future government?"
The VDIS, which was described by many as unethical, immoral and improper was challenged in the Supreme Court.
"The 1997 scheme was commented upon as being discriminatory upon an honest tax payer because their was no
penalty because it was valued at a 10 year old value. As a result most declarants were either house wife or minor children," he said.
Referring to the issue of rising bad loans of the banking sector, Jaitley admitted that it is a big challenge and one has to think whether the legal system is a hurdle in the recovery process.
Taking a jibe at Congress member Shashi Tharoor, who initiated the debate on the Budget, Jaitley said it was not possible for the government to increase expenditure and maintain fiscal deficit without raising taxes. "But I found myself unable to understand Shashinomics".
India, he said, has been able to maintain 7.6 per cent growth rate despite the fact that word is passing through a difficult phase and has adversely impacted country's exports.
Describing his Budget proposals "realistic", the Finance Minister sought support from the opposition in government's endeavour to retain India's position as fastest growing large economy in times of global slowdown.
He drew comfort from the fact that Current Account Deficit is less than 1.5 per cent and WPI inflation during NDA government had never crossed 6 per cent and retail inflation is also low.
However, he added that India has its own areas of concerns as private investment is weak and government is
trying to step up public investment and tried to resolve the problems facing various sectors, including steel, sugarcane, discoms, highways.
Jaitley said various infrastructure projects suffer from time delay and cost overrun and there is always a fear that if some steps are taken to resolve the issues CBI and CAG would come in and even PIL could be filed.
In this regard, he referred to the projects worth Rs 15-16 lakh crore which got stuck due to some problem or the other and no solution was forthcoming.
"We have amended the Arbitration Act and set up Commercial Division in High Courts. I have proposed a
statutory mechanism for resolution of Public Contracts, he said.
It is necessary, Jaitley said, that the effort to resolve these problems are not looked upon with suspicion and there should be legal protection for persons involved in the process.
Jaitley stressed that NDA government's budgetary accounting is different and it has not cut expenditure to
maintain fiscal deficit.
He said that allocation to states have been rising and Rs 9.11 lakh crore would be given to states in 2016-17 fiscal, up from Rs 8.11 lakh crore in current fiscal.
With regard to rationalisation of tax laws, Jaitley said in the last two budgets he has sought to dole out benefits to salaried class and lower middle class section of population.